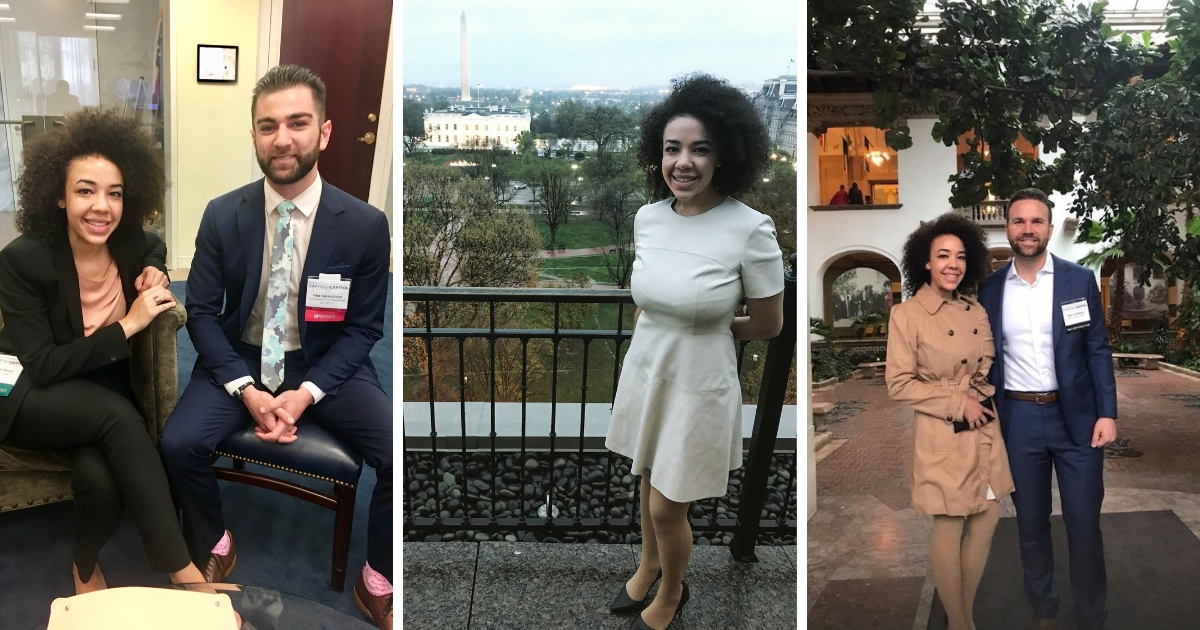 By Anna Fontus, Metro EDGE Community Engagement Liason
ICYMI: Metro EDGE has a Leading EDGE fund that provides financial awards for a few members each year to attend signature Sacramento Metro Chamber events such as Capitol-to-Capitol (Cap-to-Cap) in Washington DC. Here's what you need to know about Cap-to-Cap:
What is it?
Cap-to-Cap is an annual delegation comprised of business, government, and community leaders that assemble into teams by topic to discuss real-time successes and challenges related to federal policy in the Sacramento region. Cap-to-Cap is a program of the Metro Chamber, and this year, it will take place from May 4th to May 8th.
If you saw the word policy and want to go away because you don't have related experience—STOP! Breathe. And keep reading.
What do you actually do?
Expect each day to have one or two networking receptions, three to four group meetings with Congressional offices, and fun activities you can only find in DC! The days are built to provide you with opportunities to represent your business (and Metro EDGE), but also with plenty of downtime to really make the most of your time in DC. There are incredible restaurants, great neighborhoods to explore, and amazing museums to check out.
Will I be prepped for the legislative meetings?
Yes. Every issue area has its own team of people to write the policy papers, which will serve as your talking points. Yes, you read that right. A team of people giving you talking points to make you (and the region) look good in meetings. Free with the price of admission!
What if I just don't care about policy?
Cap-to-Cap is bigger than any law, policy, or regulation in place or in development. Cap-to-Cap was created to ensure that our nation's leaders are educated on how their decisions impact our community, and have recommendations on strategies that would help advance the Capital region.
Why should a young professional go?
Cap-to-Cap is an opportunity to bring your A-game, and elevate it. You will leave the trip with a much better understanding of the business and community leadership in the region, how to connect with major movements, and what to anticipate next, resulting in a better understanding of how your or your company's next steps will impact others, and in turn, be impacted. You will get contacts from far beyond your network, and have access to some of the region's best problem solvers (business, policy, and everything in between)—some of which are regularly called upon to solve national issues as well. It's also an opportunity for YOU to stand out, especially because so few young professionals attend. Also, it sharpens your existing skills like networking, public speaking, navigating the Metro and identifying the best pair of walking shoes. Yes, we consider shoe selection a skill and an important one at that, because you will be walking a lot.
Any last words?
The Leading EDGE award will only cover a portion of the program's costs, which includes airfare, hotel, and about half of the meals between the 4th and the 8th of May. Prepare to have yourself or your employer cover the rest, up to $3,000 to be on the safe side. If you're uncomfortable with networking, this may not be your trip. You don't have to be spectacular by any means! Just come ready to introduce yourself, be an enthusiastic representative of Metro EDGE, and take full advantage of this amazing experience! Don't worry, some veteran EDGErs will be around to show you any additional ropes. Apply by Friday, February 22nd, and remember, growth and success is on the other side of your comfort zone.
Still have questions?
We have a blog post about why you should attend this upcoming event and what you might get out of it. You can also contact Anna Fontus on Instagram, Twitter, or by email.