"Teamwork makes the dream work," especially during challenging times
By Amna Abunijem, 2022 UC Davis Sacramento Part-Time MBA alumna
A million questions swirled in my head.
Should I continue to take classes or take a break? Do we keep The Yummy Cookie open or close it down? What if I'm making the wrong decision?
It was 2020 and, in addition to being the co-owner of The Yummy Cookie—an artisan cookie store in Roseville, California—I also had just entered the Sacramento Part-Time MBA program at the UC Davis Graduate School of Management (GSM).
I already knew balancing a business and business school was going to be a challenge. I didn't expect it to be as challenging as it became. There were times when I felt that there was this never-ending anxiety that took over my life. But, when I leaned into my MBA community, not only did things improve, I discovered new a passion.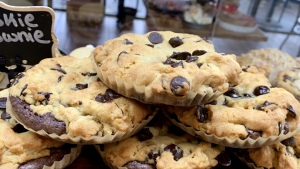 Overwhelmed 
The peak was around February 2021. I found myself at The Yummy Cookie talking on the phone to a customer about a Valentine's Day order while simultaneously taking a tray of cookies out of the oven and then participating in my Zoom Organizational Strategy and Structure class. (Yes, all in the same minute). I was working overtime at The Yummy Cookie to help cover for another employee who had health issues.
At the same time, I was developing an interest in teaching and so I was a teaching assistant at both UC Davis and an acting school in Los Angeles. I was doing all this while taking classes in the Sacramento Part-Time MBA program.
I think it might be an understatement to say that my plate was full.
I knew I had taken on much more than I could handle long term. I kept telling myself it was short term, but like we all know, two weeks became two years, and many are still reeling from the effects of the pandemic.
Teamwork Makes the Dream Work! 
CAPTION A variety of cookies available at The Yummy Cookie in Roseville.
A team of fellow UC Davis MBA students helped Amna Abunijem increase the efficiencies and streamline her Roseville, CA-based artisan cookie business, The Yummy Cookie.
During the next few quarters, I kept taking classes and teaching assistant jobs. I was starting to feel overwhelmed, and the signs of burnout started to show.
Then an unexpected source of relief came my way. I was working on a group project for our Operations Management class. The group suggested we use The Yummy Cookie for our project. They wanted to see the effects of their work on a real business.
As we worked on our project, we found several changes we could make to our processes that would increase efficiency. One of the group members went through our sales numbers and made some recommendations on how we could streamline our menu. This is when I fully noticed the value of joining the UC Davis GSM. By opening myself and my company to the input of others, I found a great community of support who could help me and help my company grow.
Moments of Realization 
I experienced many other moments like this during my MBA where I was able to apply the skills, I was learning in the classroom directly into my business.
For example, as soon as I learned some statistic skills in Data Analysis for Managers, I almost immediately went home and applied it to our sales and marketing to see if there were any correlations.
When I took the Individual and Group Dynamics class, I went and analyzed how we could improve things for our staff.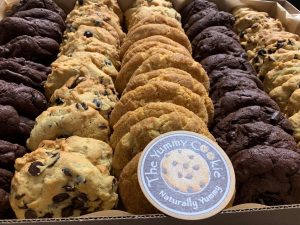 I took the skills from my Negotiations class when I negotiated our next lease.
Storytelling and marketing classes helped me develop systems on how to better connect with our customers.
And in my last quarter, I had many lightbulb moments on entrepreneurship in the Management of Innovation class. I was finally able to articulate the terminology and mindsets of innovation and entrepreneurship.
Living the Life of My Dreams 
I wasn't new to the business world when I started the UC Davis MBA program. After all, we opened The Yummy Cookie in 2017 and I had been a part of another family business overseas since 2008. However, earning an MBA gave me the terminology and tools to help grow the business.
It also opened up a whole new world I had forgotten I had an interest in: teaching. I was fortunate to work with several professors that helped me succeed as a teaching assistant and now a teacher.
Now, in addition to being a co-owner of The Yummy Cookie and an MBA alumna, I teach part time at the International Center at UC Davis, where I share my love of entrepreneurship and public speaking.
You Can Do It Too! 
Owning a business is hard and keeping it going through a pandemic and recession was undoubtedly tough. But I've learned that entrepreneurship (and life, for that matter) that if you open yourself up to new opportunities and a community of support, you will be amazed at what you can accomplish.