For over a decade, Metro EDGE has prepared young professionals to be leaders in their careers by nurturing the development of skills and mindsets to maximize on-the-job success. With that focus, we've grown bigger and better than we could have ever imagined years ago, and now business and civic leadership look to EDGErs as a valued segment for signaling what's important to the region, and many area professionals look to Metro EDGE as their first contact with a professional network. With great power, however, comes great responsibility. We're proud of where we are and who we've become, but recognize that we could be much greater if our membership and future leaders were representative of our community. 
We hear the words diversity and inclusion in statements about Sacramento and its inhabitants, but in our business meetings, public hearings, and sometimes even walking downtown/midtown we don't see it. We hear visions of Sacramento being a place where everyone is welcome and able to participate in Sacramento's renaissance. While the vision resonates with us, a strong commitment to making that occur is absent from the discussions occuring. With this work we aim to establish awareness of DIB challenges in our community and secondly to improve our outreach and programming to result in an EDGE more reflective of the Sacramento YP community.
How will Metro EDGE use Diversity, Inclusion, and Belonging as a framework to catalyze positive change?
Being woke isn't enough. It's time to walk our talk!
Diversity: This is our starting place. Year after year Sacramento continues to make it in the top 5 most diverse cities in America. Sac State is the most diverse campus in the CSU system, home to over 30,000 students alone. When a population is designated as diverse, it's because a significant portion of the population is represented by different communities. Sacramento is home to nearly every heritage on the planet--largely in part to helping resettle over 30,000 refugees since 1989. Check out Sacramento's demographics here. Metro EDGE is seeking to ensure that our diversity is celebrated in as many ways as possible.
Inclusion: This is the how. Our actions, strategic shifts we make, and how we move in the community will be centered on being more inclusive than we have in the past. There are a myriad of activities that fall under this umbrella, but in a sincere attempt to be as genuine as we are effective, here are some pieces that we'll be undertaking:
Reviewing barriers to fully accessing professional development and community engagement opportunities as part of Metro EDGE.

Establishing a shared understanding of the different communities in our region by sharing resources that may address existing blindspots (we all have them) and ensuring our members are connected to voices who directly represent each community we engage with.

Looking within our own practices, policies, programming, and beyond to be more inclusive at every touch point an individual has within Metro EDGE, specifically:

Changing our "Who We Are" section

Adding forums to specifically move the needle on

DIB

in our region (check our events).

Reviewing the backgrounds and life experiences of our speakers and content providers.

Doubling down on our commitment to making sure that everyone has a positive and welcoming first experience with EDGE. To formalize this, we've launched an

Ambassador Program

. 

Assigning a Leadership Council member to lead this work.
"Inclusive leaders need to demonstrate their support for people with invisible stigmas before those identities are even known"
Belonging: This is our goal and vision for EDGE and Sacramento in 2020 and the years following. We don't define success as being in the same room as someone from a different background--we want people to be themselves, and not feel the need to change for fear of being excluded or rejected. We definitely don't want anyone to codeswitch. 
It's not enough to simply include people at the table, Bastian said, but to "amplify everyone's voices, clear barriers … and appreciate each other for our unique backgrounds."
Final Thoughts: We're not claiming to be the expert or the leaders in this work. We're using this lens as a way to get things moving. It's with nearly 100% certainty that we will stumble or accidentally take a wrong turn on the way, and we know we're not alone in that. We won't fully solve diversity challenges in our lifetime, which is why we're using this work to establish a mindfulness that we can practice, improve, and refine over time. Thanks for coming along for the ride!
DIVERSITY, INCLUSION, AND BELONGING STATEMENT
Metro EDGE's commitment to diversity, inclusion, and belonging is rooted in our belief that a thriving business sector is most productive and impactful when it reflects the communities contributing to the vibrancy of the region. We recognize the workforce in the Capital region does not currently reflect the diversity of the community, as Sacramento is one of the most diverse cities in the nation. Metro EDGE believes that greater access to professional development and networking can provide a venue to celebrate diversity of background, industry sector, and personal passions to boost participation, retention, and career opportunities among groups that are currently underrepresented in Sacramento's most influential occupations, creating a sense of belonging for all.
As a key resource for professional development and networking for young professionals in the region, Metro EDGE is committed to fostering a more diverse workforce by:
Actively engaging young professionals from various backgrounds as Metro EDGE members, event partners, speakers, and organization leaders.

Fostering the retention and career advancement of young professionals from all communities through responsive professional development programming.

Contributing to inclusive workplaces through professional development opportunities specifically focused on inclusion skill-building.

Encouraging our members to build professional networks that reflect the cultural and professional diversity of our community.

Keeping "belonging" as our ultimate goal, by maintaining an environment where young professionals can show up as their whole self, and engage with their surroundings without fear or apprehension. 
Below is a spectrum of demographics that is illustrative, not exhaustive, of the diversity we celebrate at Metro EDGE. We look forward to sustaining this work and assure that our efforts will be relentless until all members of our community feel the same sense of belonging at Metro EDGE. #EDGE4All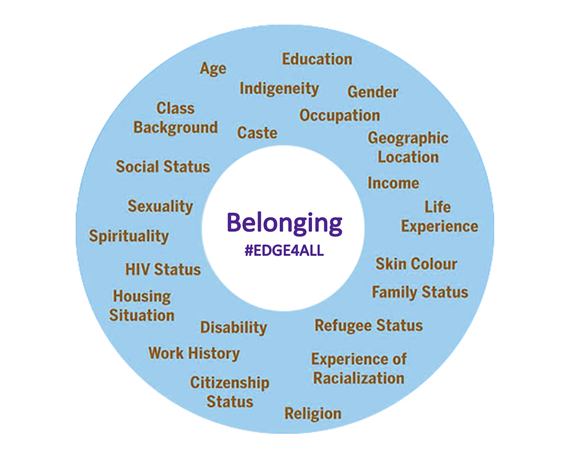 Articles we vibe with and that make us think:
Anna Fontus has been appointed to the Metro EDGE Leadership Council to oversee this work and guide the organization in becoming a better catalyst for inclusivity and belonging. As the curator of this page and workstream, she is open to additional resources, comments, and conversations to advance this work for EDGE and the young professional community. Reach out here.