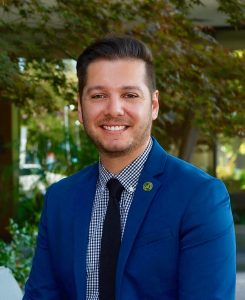 Joe Hernandez
2020 Metro EDGE Program Chair
Director of Client Relations, Premier Healthcare Services
A Southern California native, UC Davis and Sac State graduate, and passionate community leader, Joe Hernandez first came to Sacramento to pursue a Master of Business Administration from Sacramento State University in 2013. During that time, up until his graduation, it was hard not to fall in love with Sacramento. The region was going through a revitalization which could be seen and felt all around. The increasing number of local restaurants, cool bars, street activations, outdoor concerts and movies, improved amenities and infrastructure crafted a unique and enticing welcome. He wanted to be involved. He wanted to give back. He wanted to be a part of something bigger than himself.
Metro EDGE was the perfect outlet to channel this new-found passion for Sacramento. Joe found tremendous value in EDGE's networking, professional development, philanthropic drive, empowerment, and access to leaders within the region. This ambitious immersion into the program, led to a seat on the Leadership Council in 2016. After four years of service, he is excited to be taking the role of Program Chair. In addition, Joe has served on the Metro Chamber's Foundation Board and Political Action Committee, and as Communications Chair for the Sacramento State Business Chapter Alumni Association. He is a 2019 honoree of Sacramento Business Journal's "40 under 40" and is all about Sacramento! Joe resides in the heart of Midtown and works as the Director of Client Relations for Premier Healthcare Services an Aveanna Co., an organization dedicated to serving those with intellectual and developmental disabilities.
In 2020--- the next decade of Metro EDGE, Joe is committed to laying the foundation for a more diverse and inclusive EDGE. One that truly reflects the region that we serve and where all young professionals can find a home. #EDGE4All