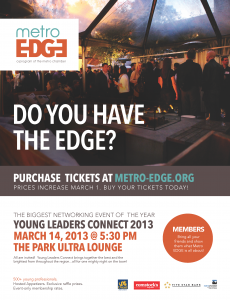 By Verna Sulpizio, Networking & Events Committee Chair
Haven't been to Young Leaders Connect before? Or are your networking skills a little rusty? We all know that even the best young professionals experience a little anxiety about getting out there and chatting with new people.  For those of you who are new to Metro EDGE, new to networking, or even just new to attending Young Leaders Connect, the Networking & Events Committee thought we could give you some tips on what to expect at Young Leaders Connect in order to prep you, relax you and help you enjoy and benefit from the biggest networking event of the year. Here's everything you need to know:
Registration:  Register today! Pre-registration offers discount pricing and quicker check-in at the event.  Additionally, you will have a pre-printed nametag waiting for you. It is not necessary, but you can bring your Eventbrite receipt for ease at check-in.
Click here to register. You can also purchase tickets at the door and pay with cash, check or credit card.
Parking:  Valet service will be available after 5 p.m. There is also ample street parking in the area (metered until 6 p.m.) and several garages and parking lots as well:
Parking Lots:  Corner of K & 15th and Corner of L & 16th
Parking Garage: K & 14th, next to Capitol Garage. Enter on 14th Street
East End Garage: 17th Street between L Street & Capitol Avenue.  Please note this garage closes at 9 p.m.
 More parking information here.
Check-in:  Doors open at 5:30 p.m.  Event entrance is on the corner of 15th & L Streets (on 15th Street).  There will be signage directing you to check-in by last name.  Grab your nametag and you are on your way!
If you get off late, or have a bit of a commute, don't worry!  Check-in will be available until 8 p.m. and I'm sure many of us will be hanging around hours after to keep the fun going.
At the event:  Sprinkled around The Park you will find several booths you will want to visit.  Comstock's, is hosting a raffle at their booth.  The Networking & Events Committee is giving away a Yosemite Vacation Package - valued at over $700!  The Professional Development Committee has a photographer offering free headshots too!
We will have a map of the event available to help you navigate the venue which you can pick that up at the Membership Booth. Look for the purple balloons.
Other fun things to look out for at the event:
UC Davis Graduate School of Management will have a surprise raffle and available to answer any question about their program
Place your vote at the Philanthropy booth for what you would like to see the 2013 Day on the EDGE look like.
Enter to win a bottle of wine, event tickets and more at the Professional Development Booth
Photo booths in the Ultra Room
iSnap Kiosks
Speed Networking with Networking & Events
The official YLC Raffle!
Drawing:  The Networking & Events Committee has assembled an amazing assortment of prize packages available the night of YLC. Tickets will be on sale at the event and can be purchased at the Membership Stations (look for the purple balloons) and the Drawing Table.  Some of the awesome prizes up for grabs include:
 3 Day, 2 Night North Lake Tahoe Weekend Getaway
2 tickets to Alvin Ailey at the Mondavi Center
Local Brewery Gift Box
2 Crocker Art Museum family passes
1 Center for Contemporary Art year membership
Sacramento Zoo Gift Basket
Golden Pacific Bank goodies
Brewery tour, tasting and growler
Social Sports Gift Basket from Radii 150
Born Free USA Gift Basket
VIP Tables at District 30 / Dive Bar
Ink Gift Certificate
Carvalho Wine Tasting & Tour
And more!
Food & drink:  During the event you may want to have a snack and enjoy a cocktail. Your ticket price includes delicious hosted bites from Cafeteria 15L. Additionally, there will be several no-host bars around the venue so be sure to bring a credit card or cash to enjoy. There will be a special EDGE Martini available for only $6!   
What to wear: Typically for this type of event I would say "business attire" but that may not help everyone, so let's break it down in YP terms… Dress business casual meets night on the town!
 Ladies: A nice dress, skirt with blouse, or even slacks with a great top.
Men: Slacks, blazers and collared shirt.  And of course, the no-fail option:  Suit up!
Ultimately you want to wear what you feel comfortable in while putting your best foot forward.  If you want to see what everyone was wearing last year, click here.
What to bring:  Your friends, your business cards, cash/credit cards for drinks and raffle tickets and the most important thing - your smile!
We hope this information helps you get ready for Young Leaders Connect.  If you have any questions about this event (or Metro EDGE) please do not hesitate to shoot me an email.
I look forward to seeing you on March 14 at Young Leaders Connect!