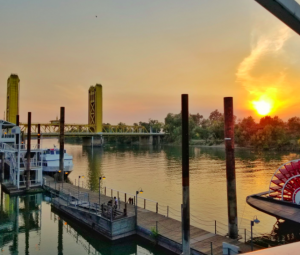 Issue Immersion Day is one of Metro EDGE's biggest events involving regional action and advocacy. As the name suggests, it is a day where EDGErs immerse themselves in a certain regional topic and hear from key executives from the industry or initiative while visiting important sites related to theme of the day for a hands on understanding of the topic. The topic, chosen from a yearly survey from the EDGE community, was Transportation for this year's event.
It's obviously no secret that Sacramento's economy is evolving. Real estate is booming with new ground being broken nearly every other week for new housing and development, while the local economy is boiling over with opportunity. But housing alone cannot support the swelling growth happening here in our city. Transportation and infrastructure are the backbone of what keeps the city going, growing, and thriving. Issue Immersion Day 2017 took EDGErs behind the curtain of some of the initiatives, struggles, and inner workings of transportation in the Sacramento region.
An Overview
The day began with a generous lunch at Hotel Bar. From there, our group of YP's walked over to the Capitol building to hear from a diverse group of transportation CEOs and government officials ranging in representation, from SACOG (Sacramento Area Council of Governments), Regional Transit, Paratransit, and the City of Sacramento.
From there our group quite literally immersed ourselves by riding the city's light rail system to a multi-modal transportation site, the Curtis Park Pedestrian Bridge, located at the Sacramento City College light rail station. The day wrapped up with a rush hour light rail ride back into downtown (actual immersion if I do say so myself!), and a networking opportunity aboard the Delta King with key ambassadors in the transportation industry to bring the day full circle.
Learning About the Issues
The first panel gave a robust look into the state of transportation in not only Sacramento, but the state of California as a whole. EDGErs got a closeup look into how SACOG, Regional Transit, Paratransit, and the City of Sacramento all work together and how each works to balance and regulate. An overall theme? We must work together as a community for the entire region.
Many of our organizations are doing just this, too. Tiffani Fink, CEO of Paratransit spoke about how Paratransit not only is providing mobility and independence through transportation services to individuals with disabilities, the elderly, and related agencies, but also working to educate communities and youth about how to use public transit and give lower income communities mobile independence.
Another recent initiative is the Curtis Park Pedestrian Bridge, proposed and pushed forward by Jim Brown and the Sacramento Area Bicycle Advocates. Located at the Sacramento City College Light Rail stop, the structure is a bicycle and pedestrian-only bridge that promotes multi-modal transportation, which in turn promotes transportation freedom and independence to a diverse group of residents.
The bridge allows people who commute via bike, walking, and/or light rail to safely and efficiently get back and forth from Curtis Park and the light rail station at SCC. Before the bridge's installation, these were areas that you would otherwise need a car to access, or if you biked or walked, your options were limited to an extremely dangerous ride across Sutterville Rd overpass, or nearly a mile and a half detour up to Freeport Boulevard and back. The Curtis Park Pedestrian Bridge is an example of promoting community with a multi-modal infrastructure and creating accessible means of transportation to everyone.
Overall, the day reaffirmed that transportation is vital to economic and cultural growth in Sacramento. There are many different gears that move in conjunction to build, sustain, and maintain our roads, bridges, trains, and buses that affect our personal experience in a city. Sacramento is growing, in nearly every sense of the word. However, our public transportation infrastructure has some catching up to do. Currently, Sacramento's public transit system is the 6th largest in the nation and Issue Immersion Day cast a new light on the extreme importance of creating a safe and efficient way for our citizens to get around.
How We Can Help
The important piece in successful transportation lies in options. Options = independence. To make change in our infrastructure, we must advocate for options and support having more opportunities than a car to get around. How do you advocate for options? By showing up.
Use the bike lane, ride the bus or take the light rail, use multi-modal options in your commute, even if it's only once a week. Advocate and educate what you need transportation for, and actually be out there using it! Go to your town hall meetings and city council meetings. Our city council members want our voices and need the opinions and concerns of the region's young professionals.
Issue Immersion Day was well-rounded with impassioned speakers and immersive site visits, and EDGErs walked away with a deeper understanding of how transportation impacts our community. I went away with a clearer understanding of the available tools to impact growth, identified the type of growth that would benefit our city best, and most importantly, left with a feeling of empowerment and energy to engage and continue building the cultural and economic growth here in our city, Sacramento.
by Amanda Sebastiani, 2018 Metro EDGE Community Engagement Co-Chair