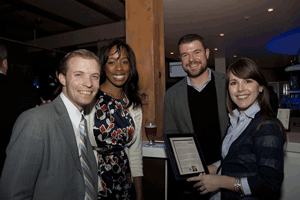 Thanks to all the EDGErs who came to In The Mix on Tuesday night, and thank you to Comstock's and PBS&J/Akins for coming out and showing EDGEers their new iPad applications!
Photos from the event are now live on Comstock's Facebook page! 
Special offer from Comstock's & LoungeON20:  Be one of the first 25 to "like" or comment on the photos and you'll receive a free $20 Gift Card for LoungeON20 (offer applies to "fans" of the Comstock's page, be sure to click the "like" button at the top of the page if you haven't already joined). Also be sure to share the photos and "tag" your friends!"
 
Don't forget Comstock's iPad app is currently free in the Apple Store - get it today!
If you weren't able to make In The Mix, here's a video about this amazing digital magazine technology: http://www.youtube.com/watch?v=qpxFBL4j9ec
For more on PBS&J's FloodMap Mobile, click here or email Dan Henderson.