This is a guest blog post by Sean O'Brien. Sean is not only an EDGE alumni, but he is one of the young professionals who helped start Metro EDGE in 2009. Sean recently quit his corporate job of 14 years to start his own business, O'Brien Wealth Management.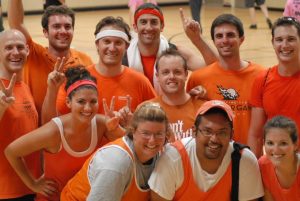 In 2009, the Sacramento Metro Chamber reached out to around 30 local young professionals to discuss the idea of a young professionals group. The Chamber asked if we would be interested in starting a young professionals program in Sacramento if they provided the financial support needed to get the program off the ground. We were honored that the Chamber asked us to be part of this idea and we immediately started laying the foundation of what is now Metro EDGE. From the beginning, one of our main goals was to give back to the Sacramento community, and with that, EDGE philanthropy was born.
Luckily, we soon discovered Sacramento State's Educational Opportunity Program (EOP):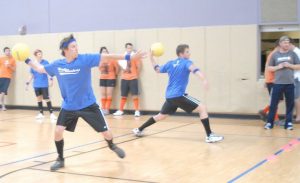 a great local program that provides scholarships for first generation college students. EDGE decided to pay this great investment forward and support the next generation of Sacramento's young professionals. How exactly would we do this? We had no clue! Our group didn't even have a name yet, but just like we do today, we got to work and started having fun. We raised money at a few different events, ran an EDGE dunk tank and held our first ever Day on the EDGE Dodgeball Tournament. After our first year, we raised more than $2,000 for Sacramento State's EOP.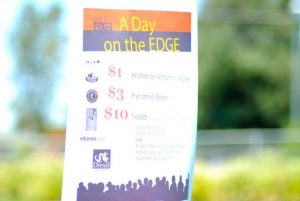 Fast forward a few years and Sacramento State's EOP called with some great news. They divided our donation in half and combined each half with additional funds to help send two young women to college. Those women ended up being the first people in their families to attend and graduate college. Who would have known dunk tanks and dodgeball could help two people secure a great future?
This was only the beginning of EDGE's philanthropic efforts. Over the last 10 years, EDGE members have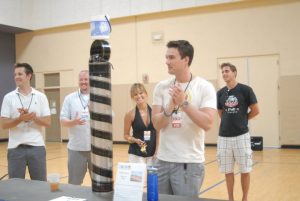 donated their time, talent and resources to the Sacramento region in a number of ways. From volunteering on the weekends to planning fundraising events, EDGE members have always had a strong passion for making their mark in the community.
A significant way Metro EDGE engages in philanthropy is by partnering with the Metro Chamber Foundation's Inspire Giving program. Supported by the Give Committee, this program selects, funds, and volunteers at a local nonprofit that is making a difference in the region. The 2019 Inspire Giving beneficiary is Department of Sound and EDGE will be hosting a trivia fundraiser for them on Tuesday, July 16 at Uptown Studios. Register for this event and join other EDGErs for a fun night of trivia, networking and philanthropy!