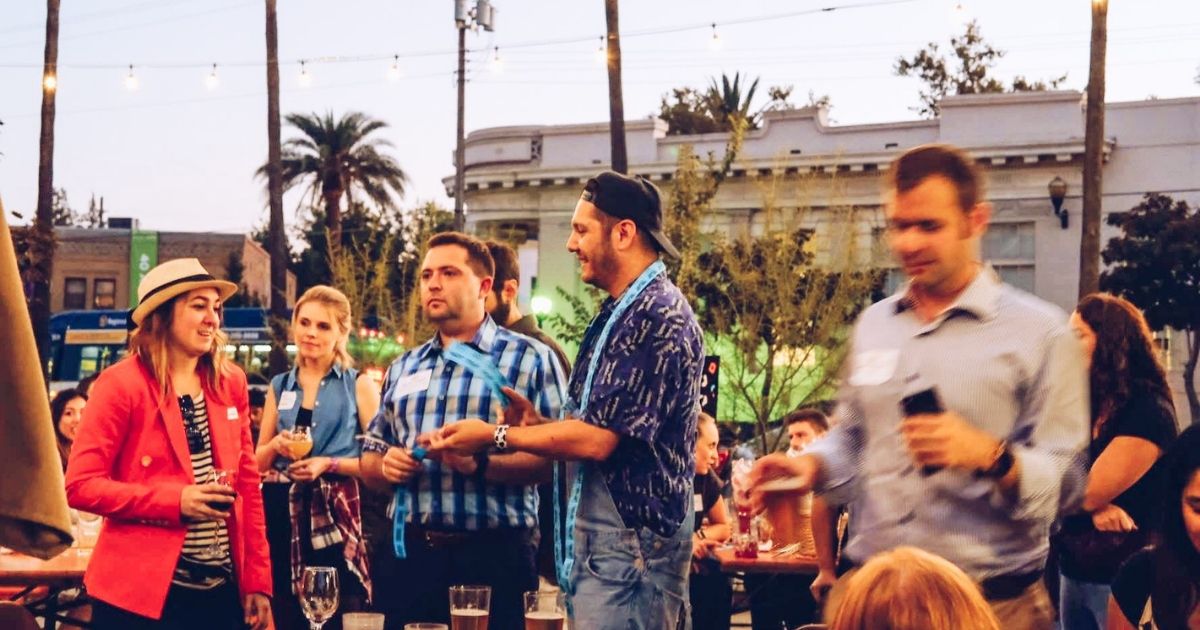 This post is a 2 minute read.
While the sunny summer days sail on by, it's time to consider how you'll kickstart the fall season come September. 
Let Metro EDGE help ease your planning woes and attend EDGE's biggest bash of the year: EDGE916, happening after the Emerge Summit on Thursday, September 19th.
You might be asking yourself, "What's EDGE 916 and who attends?"
EDGE 916 commemorates Metro EDGE's launch back in September of 2009. It's an annual celebration that brings together past, new and current EDGE members; even cheerleaders of EDGE enjoy attending! 
This year will be no different; you don't want to miss the fun as you nosh and sip among new and old friends.
Here's a glimpse at what the celebration has looked like over the past decade:
2018 – '90s themed for year 9 of EDGE at Oakhaus in Oak Park
2017 - Attendees took in the panoramic views of Sacramento at The Emerald Tower for year 8 celebrations
2016 – Held at the Railroad Museum, there was an epic silent auction that raised funds for our annual beneficiary: Next Move
2015 – Year 6 celebrations happened at The Portal on R Street before it became The Ice Blocks
2014 – EDGE turned 5 and celebrated at the Verge Center for Arts 
Can't make the Emerge Summit this year and not sure if you should attend EDGE 916? 
Call it the after-party to Emerge or an early start to your weekend-- everyone belongs at EDGE 916 as we celebrate 10 years of EDGE! You can decompress from your day at the office or from all the engaging content you absorbed at the Summit. 
You never know who you'll meet: a new friend, that link to a new career pursuit you've been developing, or a future business partner. 
Cheers with us as EDGE turns 10 and toast to Sacramento's prosperous future, the role young professionals play in it all, and to creating community! #makeyourmark
Check out more details and snag your ticket now before they sell out!
---
This is a guest blog post by Anne Descalzo, 2019 Metro EDGE Chair. Anne is an advocate for professional development and a ready workforce, and takes the honor of serving as the 2019 Metro EDGE Chair to heart! She maintains a co-existing love for motherhood and her career. She is a wife to her loving husband, mother to two energetic children, and AVP of Community Banking to her team at SAFE Credit Union.