September Farm to Fork 101
By Kaitlyn MacGregor, HealthCorps and EDGE Philanthropy Committee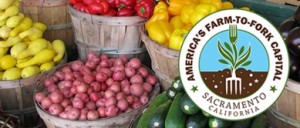 What is it about a cattle drive that makes me want to dust off my work boots and dig up a pair of old jeans? I'll blame it on too many summer months spent running around Idaho after errant cows.  But while I'm excited about seeing cattle meandering their way down Capitol Mall – and you can bet I'll be on the sidelines – I'm equally excited to make the rounds to the local restaurants, events and the much talked about Farm-to-Fork Festival.
I have to admit that when I first heard of this Farm-to-Fork idea, I had this mental image of candlelight dinners with small groups of intimate friends and immediately crossed it off my to-do list. Luckily a few weeks ago, I happened to wander into a conversation about Farm-to-Fork with my coworkers who were happy to tell me how wrong I was to not explore this new pack of food and festivities further. So curiosity piqued, I did what everyone does – I Googled. A little time on the website and I knew my September was going to be a busy month.
Some of the most exciting events to hit my radar are both in the downtown/midtown area and further away into the foothills and toward Davis. You've got options like Dinner on the Farm out at the Center for Land-based Learning and harvest events like the one at Revolution wines.
If you're looking for a traditional meal with fabulous food you can of course find several of the area restaurants offering wonderful dinners full of fresh, local foods during Restaurant Week, but if you are looking for an adventure they have that covered too.
Make sure you check out the Farm-to-Fork events listing to find something to tickle your inner Farm-to-Fork adventurer. If you are looking to stay on the grid and partake in the many Farm-to-Fork activities make sure to check out a list of events below.
Metro EDGE In the Mix :: Farm to Fork
September 17, 5:30 p.m. – 8 p.m.

Drexel University Sacramento Forum – Farm to Fork: The Cause Behind the Cuisine
September 18, 6 p.m. – 7:30 p.m.
Restaurant Week
September 20-29
19th Annual California Brewers Festival
Saturday, September 21 - Discovery Park
Cattle Drive (You knew this one was going to be on here!)
Monday, September 23 – Across the Tower Bridge and down Capitol Mall
10:00 a.m. to 1:00 p.m.
Farm-to-Fork Wine Tasting Featuring Wines Selected by Darrell Corti and David Berkley
Thursday, September 26 – Capitol Grounds, West Steps
6:00 p.m. to 8:30 p.m.
Farm-to-Fork Festival
Saturday, September 28 – Capitol Mall
11:00 a.m. to 5:00 p.m.
Happy Adventuring!