By Emilie Cameron, Metro EDGE Chair and Sr. Public Relations Manager, 3fold Communications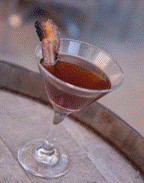 It's no secret that bacon makes a great addition to any menu. The luscious, lingering flavors of this beloved cured meat has ignited an entire sub-culture devoted to infusing the visceral flavor profile into everyday options.  While not your normal bacon fanatic, this week's Bacon Fest celebration of this artery-clogging obsession just looks like too much fun to miss. Lucky for me, this year Ten22 is marking this annual celebration with some of their best bacon and booze libations yet!
Upon entering restaurant, I took a sharp right to start the night with my favorite course, the cocktails! The timing couldn't be better to stop by this week with the launch of the new "3 to 6 Happy Hour" offering a new menu of drinks and bites ranging from $3-$6.  And, in honor of Bacon Fest, this week the bar features a traditional Manhattan infused with hints of bacon. How could I resist a $6 Manhattan?!
To read the full article visit: http://downtownsac.org/bacon-mania-comes-to-ten22/