Drinks were sipped and conversation flowed as September's In The Mix got underway at the new farm to fork eatery, Capital Dime. What most in attendance may not have known as they mingled and mixed their way around the patio, was that Capital Dime is the original location of Metro EDGE's beneficiary, The Sacramento Children's Home. Originally started 145 years ago, The Sacramento Children's Home is this region's longest running charity that works to build strong families through services and support.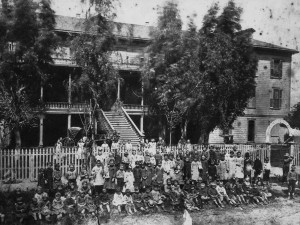 The history of The Sacramento Children's Home starts early in 1867, when a group of Sacramento men and women met in the Senate Chambers to discuss the establishment of a home for orphans and destitute children. Within a month of meeting, this committee drafted and signed a handwritten document of incorporation, naming the organization the Sacramento Protestant Orphan Asylum. It took less then a year to raise enough money and build the two-story orphanage on L Street. When it officially opened its doors in 1868, there were 58 children in its residence and grew to 202 by 1894.
The orphanage featured a parlor, reception area, study, and the Director's Room. Four large dormitory-style bedrooms dominated the upper floor, while the basement and kitchen were fitted with the "latest conveniences: dumbwaiters & speaking tubes." The community embraced the children, hosting them at dinners and picnics, providing front row seats at the circus, and gifts at the holidays.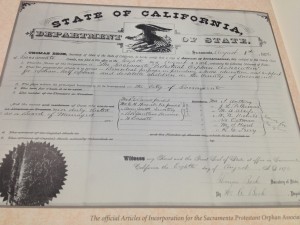 As the number of children living at the orphanage continued to increase, the L Street home became too small to fulfill the need, so in 1906 the Sacramento Protestant Orphan Asylum moved to the 32-acre piece of land the Sacramento Children's Home still resides on today. In 1914, the Sacramento Infant and Foundling Home merged with the Orphanage, and officially became the Sacramento Children's Home.