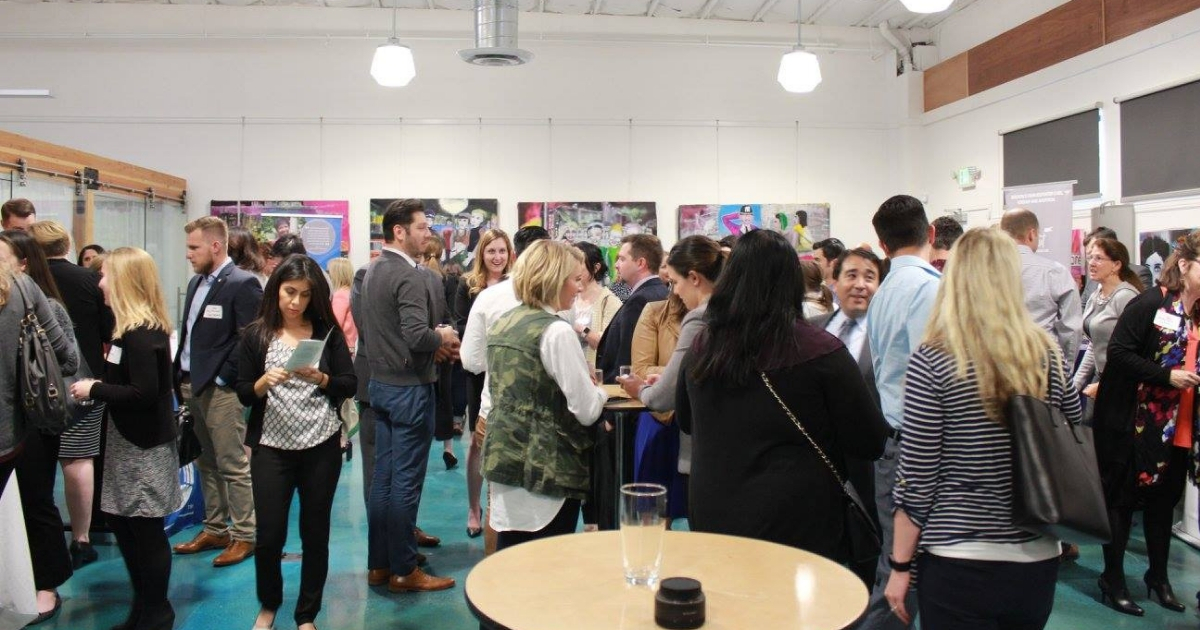 Storm the Boardroom is one of Metro EDGE's most anticipated networking events of the year. At this event, not only will you network with fellow young professionals, you'll have the opportunity to meet non-profit board members who want YPs to fill their open board seats. Joining a non-profit board may sound a little intimidating, but there are actually many benefits of joining a non-profit board as a YP:
Expand your career:

Serving on a non-profit board is a great way to develop new job skills. Bonus: it will look good on your resume and help you stand out among other candidates!

Meet new people:

Serving on a non-profit board is a great way to grow your network and expose yourself to people in different industries.

Give back to the community:

Giving back is one of the four pillars of EDGE. What better way to give back to the Sacramento community than to join a non-profit board?
If you're excited about the idea of joining a non-profit board but you're not sure how to make the most of Storm the Boardroom, we have you covered! Here are some best practices to keep in mind for the event:
The Night Before: Preparation
Brainstorm issues that you are passionate about:

In other words, what would you change or advocate for, if money or time was no object?

Think about skills you'd like to develop:

If your day job doesn't allow you to foster new skills, consider a board position as the perfect training ground for key leadership skills.

Be realistic:

This is important. It is all too easy to over-commit to projects, especially those that you are passionate about and that could lead to professional development. Set a realistic expectation for yourself in how many hours you can donate per week to keep work/life balance a priority.

Get to know the nonprofits

Franklin Boulevard Business District (FBBD): The focus of FBBD is on providing excellent maintenance and safety services; advocating for business-friendly public policies; enhancing public spaces; and promoting and marketing the area's culturally diverse businesses, in particular, its Latino and Hmong cultures.
La Familia Counseling Center, INC: La Familia's mission is to improve the quality of life for at-risk youth and families of diverse backgrounds by offering multicultural counseling, support and outreach services and programs to help families to overcome adversity, to become empowered, and to succeed in their lives.
Food Literacy Center: Food Literacy Center's mission is to inspire kids to eat their vegetables. They teach low-income elementary children cooking and nutrition to improve our health, environment, and economy.
Habitat for Humanity of Greater Sacramento: Seeking to put God's love into action, Habitat for Humanity brings people together to build homes, communities, and hope.
Sacramento SPCA: The mission of the Sacramento SPCA is to foster a loving and compassionate community for animals and people by providing assistance, creating lifelong relationships, and saving lives.
Crisis Nursery Sacramento Children's Home: The Sacramento Children's Home operates Sacramento's only Crisis Nursery Program. Their mission is to prevent child abuse and neglect by providing support to families at times of crisis. The Sacramento Crisis Nursery Program is a family-strengthening program where parents can bring their children, ages 0-5 for emergency child care or overnight care during stressful or difficult times.
Ronald McDonald House Charities Northern California (RMHCNC): RMHCNC's mission is to help children and their families by providing an atmosphere where families can rest, reflect, and find mutual support. This home-away-from-home provides shelter and comfort to families who must travel to the Sacramento-area in order to receive medical treatment for their child. The House offers family members of seriously ill and injured children a refuge from the hospital setting.
Stanford Settlement Neighborhood Center: The mission of the agency is to help build healthy communities through individual, family and neighborhood services.
Welcome Home Housing: is a non-profit organization in Sacramento, California that provides affordable housing and services to individuals with mental illness. We have five homes located in Rosemont and Rancho Cordova and we provide a variety of services to our residents to insure their success. We also provide a Respite Care Center in Rancho Cordova.
The American River Parkway Foundation: The mission of the American River Parkway Foundation is to support the preservation and enjoyment of the American River Parkway by fostering environmental education, stewardship and volunteer opportunities.
During the Event: Talking to Board Members
Ask important questions:

What does your board structure look like? Is there financial responsibility? What does the time commitment look like? What do you need from a young professional as a board member? What is your mission, and what type of projects are you working on?

Ask more questions:

What are your quarterly/year-long/five year goals? How far along are you on your development process?

Sell yourself:

Like any networking event, sell yourself, only more. Develop and hone your elevator pitch, go over your career objectives, both short and long term, and then pitch the most important ones.
After the Event: The Art of the Follow Up
Mind your p's and q's:

Pull out the business cards you've collected (you remembered to collect those, right?) and start preparing your thank you's and nice to meet you's. One point for emails, two for handwritten notes.

Continue researching:

Just because you've left the event doesn't mean that your interest has also fled. Continue to keep an eye on the boards and organizations you're interested in, and stay in contact with key players in each.
If you're already on a non-profit board or can't commit to joining a non-profit board right now, we still encourage you to attend this mixer so you can network and meet fellow EDGErs. Register here for Storm the Boardroom on Tuesday, March 19th and continue to #MakeYourMark in 2019!
---
This is a guest blog post by Taylor Toledo. Taylor is an Account Manager with 3fold Communications, specializing in higher education and healthcare marketing. She is also a proud dog mom and a not-quite-as-proud Netflix addict.