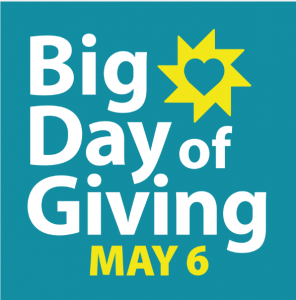 Have you heard the news? Big Day of Giving (BDOG) is coming up on Thursday, May 6th! 
What's BDOG, you ask? It's a once-a-year, 24-hour opportunity to come together as a community and raise millions of dollars for Sacramento nonprofits. The annual give day has been around since 2013 and last year raised a record of nearly $12 million benefitting hundreds of local nonprofits. Learn more about BDOG here. 
How can you participate?  There are many ways! You can support simply by helping spread the word on social media to make sure people know May 6th is BDOG. This helps maximize reach and impact! If you are able to give, check out Giving Edge, the official BDOG online resource and donation platform. Giving Edge is a great place to learn more about nonprofits and to find ones that you would like to donate to on BDOG. 
Another way to give is through Inspire Giving. Established in 2009 as a program of the Metro Chamber Foundation, Inspire Giving was founded on the idea that together, individuals can collectively make a difference. In fact, their motto is "A little is enough, if enough people do it."  Yes, that means all of us YPs can have a big impact! Every year, Inspire Giving gives a local nonprofit a $10,000 grant. Below are some of the past nonprofit grant recipients:

You don't have to give a lot to make a difference! Metro EDGE is proud to support Inspire Giving for BDOG and hope you will consider giving generously, whatever that means for you! 
This year, Inspire Giving, the Give Committee, and Metro EDGE invite YPs to give a one-time donation at one of three levels:
Do a Little

by giving $15.21

Like the motto says, a little is enough, if enough people do it! Show your support of Inspire Giving by donating the entry level donation of $15 this BDOG.

Become a Member

by giving $25.21

By donating $25 you become an Inspire Giving member, which grants you voting rights to help select which nonprofit receives the $10,000 grant every year.

Join the YP Giving Circle

by giving $50.21

A donation of $50 or more will make you part of Inspire Giving's inaugural YP Giving Circle. Your name will be put on the Inspire Giving website, recognizing those YPs of Metro EDGE who were able to give generously this BDOG.
Final question: Why end the donation in $0.21? It's a Metro EDGE tradition for YPs to end their donation in the cents that correspond to the year! 2021 means $0.21.
Mark your calendars for Thursday, May 6th to support your Sacramento region. Together, we can make a BIG difference in our community.
Kelly Brown is the 2021 Metro EDGE Give Committee Chair. Kelly has been involved with Metro EDGE since 2018 and has served on both the Give and Empower Committees. As the lead for Give, Kelly and the committee focus on generating philanthropic opportunities for EDGErs to support the community with their time, talent, and resources.