April's In The Mix event is themed around "Storm the Boardroom". This mixer will be focused on providing young professionals (YPs) with the opportunity to give back to the community. Storm the Boardroom will feature a variety of non-profits that are looking for YPs to volunteer their time and devote their talents to. Leading up to In The Mix, non-profits that will be at the event will be featured on our blog. Learn more about the event and register here.
Non-Profit Profile: Team Giving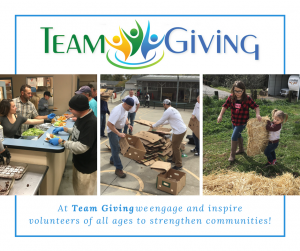 Communities are dramatically strengthened when members, like YPs, invest their time with local organizations. At Team Giving, they promote and facilitate volunteerism while improving the community's ability to create more impact. They address local community needs while building partnerships between non-profits, businesses, service clubs and individuals.
Team Giving aims to reduce the burden on non-profits by connecting them with volunteers and providing community members with a simple, meaningful way to give of their time and talents. They reach underserved neighborhoods, build connections with diverse individuals and organizations, and strengthen communities. Their approach to volunteerism provides financial and workforce savings for non-profits, while inspiring relationships that promote advocacy and expand giving. Additionally, Team Giving's volunteering efforts give YPs valuable professional development skills and expose them to a diverse set of organizations that are doing great work in the region.
In just 24 months, Team Giving coordinated close to 8,000 volunteer hours benefiting 60 local nonprofit organizations, and your support and involvement can continue to make this happen!
Their goals for 2018 are to coordinate at least 11,000 volunteer hours for 85 nonprofit organizations in the greater Sacramento and Placer County areas. Team Giving is a young organization and growing fast, and the potential to make a huge impact is extremely high. They welcome all involvement!
They have 3-5 immediate board and committee openings and would love to add dynamic YPs who are passionate about volunteering. Want to learn more or become part of their volunteer team? Attend Storm the Boardroom on April 17 to meet a representative from Team Giving and a variety of other area non-profits with board and committee openings.