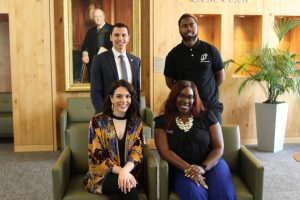 Sharpen Your Sword was the second in a series of four forums that Metro EDGE is hosting in 2019. Building on February's theme of Envision Your Goals, the second forum focused on how young professionals can improve their skill sets as they develop in their careers. More than 40 attendees, including several new EDGE members, filled a room at the University of the Pacific Sacramento campus to hear three panelists from different industries: Gina Richardson with Safe Credit Union, Karlee Cemo McIntosh with Visit Sacramento, and Armoni Easley with Project Optimism. All three panelists gave valuable career advice, but included below are the biggest takeaways from the forum:
How do you sharpen your sword when it comes to job skills?
Armoni: Just getting involved is the easiest way to sharpen your sword. If there is something that interests you, find a way to learn about it. Then contribute to a group that helps you apply what you learned. Always remember the social capital that you're developing along the way.
Gina: Develop a strong work and friend circle that holds you accountable. Make sure they are aware of your goals and skills so they can help you align your efforts with what you want to achieve.
Karlee: In the past, I networked to elevate myself and find my way. Now I have immersed myself into the young professional experience by taking on a bigger role at my job and volunteering for leadership opportunities with Metro EDGE.
Mentorship
Armoni: Spend 33 percent of your time with someone you can mentor, teach, and help develop. Spend another 33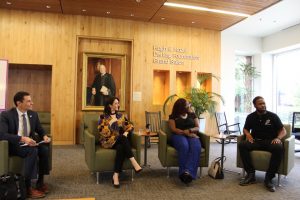 percent of your time with your peers. Spend the last 33 percent of your time with someone who can mentor and teach you. Look for mentorship (providing and receiving) in as many situations as possible.
Gina: There is not a formal agreement or contract that creates a mentor/mentee relationship. Oprah is my mentor and I've never even met her. If people see you heading towards a goal or industry, they will gravitate towards you.
Prioritizing self-development
Karlee: Find a balance. Be willing to say yes, but learn to say no or it will catch up with you.
Armoni: "No" is a complete sentence. Saying no doesn't mean that you do not want to do it.
Joining a board
Karlee: Express interest in wanting to serve on a board. Because some boards are extremely selective, you may not be able to serve on a board immediately.
Gina: I'm currently networking my way onto boards, but it's something I'm looking forward to learning more about.
Armoni: I have served on boards and learned to be selective. Before joining a board, have an understanding and alignment to the mission, and more importantly, the methods they use to achieve results.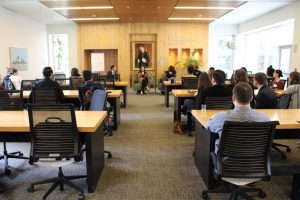 When asked about the tools that they use to learn, all three panelists agreed that books, podcasts, and most importantly, people are their go-to resources for learning. Karlee emphasized the importance of joining groups like Metro EDGE to meet others, while Armoni stressed maintaining the ability to learn from anyone about anything.
Whether you attended this forum in person or are using this post to find out what you missed, we hope you gained some helpful advice on how to continue educating yourself throughout your career! Stay tuned for more information on the third forum, taking place in August.
---
This is a guest blog post by Ruben Moody. Ruben is part of the Communications Committee for Metro EDGE. Outside of EDGE, he is the Digital Communications Fellow for the Metro Chamber and is an avid photographer.