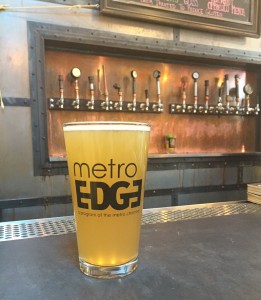 It's an exciting time for craft beer across the state. Right now California is home to more than 580 craft breweries, with two new breweries opening their doors (and taps) every week, according to the California Craft Brewers Association.
The Sacramento community has consistently been a fan of craft beer. From the 3,362 member Sacramento Beer Enthusiasts Facebook group, to the sold out crowd at the Sacramento Brewers Showcase or the thousands of Sacramento locals who attended Sacramento Beer Week events, we've never been shy about our love of beer. The Sacramento region is home to 66 craft breweries, 11 of which are within the city limits.
Just this year, Sacramento's craft breweries have teamed up with craft coffee roasters to make local beer/coffee combinations or beer infused deserts, the California State Fair recognized Sacramento's New Glory Brewing Co., New Helvetia Brewing Co., Rubicon Brewing Co. and Berryessa Brewing Co. with first place awards and nominated six other craft breweries with second, third or honorable mention. Sacramento is even hosting the first and largest California craft beer festival.
It's high time for Metro EDGE to join the fun.
In honor of the growing community of craft beer lovers in Sacramento, Metro EDGE teamed up with BeersinSac to host a craft beer tasting at Oak Park Brewing Company on August 3. EDGE members are invited to join Sacramento's craft beer lovers (or soon to be craft beer lovers) for a night of beer tasting and conversation, celebrating the past, present and future of California's craft beer culture.
For more information about the event or to register, please visit https://www.metro-edge.org/edge-events/edge-meetup-exclusive-craft-beer-tasting-at-oak-park-brewery/