Putting the Represented in Underrepresented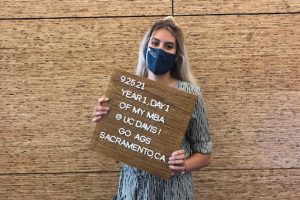 It is impossible to be a wallflower when you're an ambitious, six-foot-tall girl who is constantly being questioned about her appearance and achievements. Throughout middle school and high school, I hated standing out, both literally and figuratively, because it made me doubt where I belonged.
After years of being asked "how and why are you here," I began questioning myself in the same way. Constantly hearing those negative questions took hold inside of me.
It wasn't until I started working as an admissions adviser that I was inspired by other first-generation and underrepresented students to stop questioning who I was and instead ask myself where I was going.
My experiences as a student and my conversations with hundreds of students since have inspired deep introspection. This past year, I decided I would take action, and I took the first step to grad school by joining the UC Davis Graduate School of Management's (GSM) Sacramento Part-Time MBA program.
But before we click play and watch my time in the program unfold, let's hit rewind.
Back to the Beginning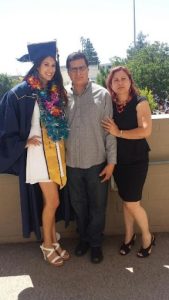 Leticia and her parents at graduation from UC Davis in 2015. 
Escaping war, my mom came to this country crammed in the trunk of a Toyota Corolla. When my dad migrated, he lost all contact with his mom. I internalized their struggle for most of my childhood, as I think most of us first-generation and underrepresented students do. I felt that I owed them nothing short of the highest success I was capable of.
Although my parents were quiet and humble, they had big dreams for my sister and me. With every award earned came the unspoken expectation for more. I developed perfect child syndrome and always played it safe to avoid disappointing everyone.
When I failed chemistry in my first year in college, all the questioning voices I heard in my childhood merged to become a single voice: my own.
I went from being an aspiring psychologist to just wanting to get a job after graduation to help support my family. I questioned my direction and motivation because the one voice that mattered, my own, was the one that doubted my projection.
That fear of facing failure again manifested itself into a million excuses to not apply to grad school. I did not want to be the reason my parents were disappointed. So instead, I focused all my motivation and vision on my job.
From Adviser to Admit
I've spent the last six years being an admissions adviser at UC Davis, but I never imagined I would be on the other side of the application process again. Ironically, my job made me a better applicant because I got to learn from the students I advised.
"When I realized I wanted to expand my professional development, I knew what questions to ask myself and others about the programs I looked into. My first step towards graduate school was facing my fear of failure."
I always wanted to further my education but I felt that I didn't have enough of the right experiences. If it weren't for my supportive colleagues, I might have never applied.
Reviewing my journey, I'd like to share three helpful factors that got me into the UC Davis MBA program: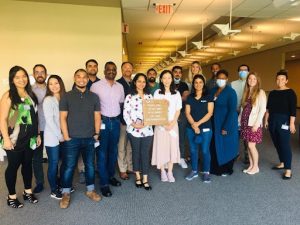 As a member of the 2024 Sacramento Part-Time MBA cohort, Leticia has enjoyed meeting her new classmates at events and throughout the program's onboarding process.
Ask for feedback from those who know you best professionally. 

They can help you pinpoint your career goals, identify your strengths, and give you a starting point as you begin researching graduate programs.





These conversations can also help you identify what you don't know—specifically your strengths that appeal to others. These close contacts can also be great recommenders for your application.




 

Understand the type of program that best fits the direction you're hoping to go. 

I had several career options I wanted to explore, so I needed a program that gave me the flexibility to change career options and explore them while in the program through resources like 

Industry Immersions

 and 

extensive career advising

. I also wanted a program that would identify my weaknesses and challenge me to convert them into strengths, not just get the grades and degree.





Collaborative, hands-on experiences like the 

International Study Program

 was also appealing as it will give me an opportunity to add global experiences on my resume, which was something I could not afford as an undergraduate student.




 

Learn what it is like to balance a challenging work-life-school routine. 

Unlike my undergraduate years, in the Sacramento MBA program, I take classes on top of a full-time work schedule. MBA admission presentations are great introductions, but talking to current students helps you visualize your potential new grad-school life.





The UC Davis GSM has a 

volunteer MBA ambassador

 program that allows you to reach out and speak with current students. In addition to being great resources during the application process, they can become your first mentors in the program.





Speaking with fellow students is also a good way to talk about common first-generation concerns like imposter syndrome and managing finances, especially from such a diverse program like my new 2024 cohort. The important thing is that you ask!





As first-generation students, acquiring helpful and trustworthy knowledge is crucial. Plus, asking questions that relate to your first-generation and underrepresented status only helps you identify if the program you are looking into has the appropriate resources, support, and understanding to help you cross that graduation finish line.
After graduating from UC Davis and working on campus, Leticia says she is excited and grateful to be continuing her education here and be a part of a program and cohort that is so inspiring and supportive.
Looking Forward to Moving Forward
Now in my second quarter in the UC Davis Sacramento Part-Time MBA program, I am still in awe that I'm here. Part of my surprise comes from how facilitated my transition has been.
I've already met so many people, even outside my cohort, who are so supportive of my journey. I've connected with a mentor and several alumni, heard industry panels, and mapped out some professional next steps with my career adviser. I take all this progress as a reflection of what's to come and I feel fully supported in taking those next steps towards my professional goals.
The program instills a team-building and network-oriented mindset in each student, thus it's created a sense of collaboration to help each of us succeed in our careers. I can't wait to continue to build connections and discover new career passions and I'm thankful that I can start this new chapter in life without living in fear of failure because I know I will be supported.