Metro EDGE has teamed up with Beers in Sac to bring you an exclusive craft beer tasting at one of our cities best breweries, Oak Park Brewing Company.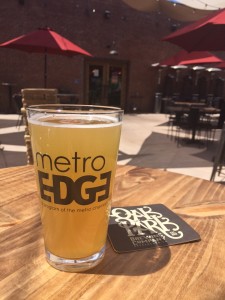 For $15 dollars, EDGE members get 5 tasting pours and a limited edition pint glass included in their event ticket. There will also be food trucks present on the patio to be able to buy food, and if the tasting pours aren't enough, Oak Park will be serving its full selection of brews for additional purchase.
New: Attendees will now have the option of five tastings in a tasting glass or 3 full pints in the customized event glass. In addition, to fully enjoy the experience, please download the Beers in Sac App to access your virtual punchcard and rate tastings.
Oak Park will not be open to the public during the event time, meaning EDGE members have the place to themselves to drink, eat, and mingle. Have a friend who's not a member but would love to come? Don't worry! Edge members can purchase an additional ticket for a non-member to join you that evening.
Read more on Sacramento craft brews in this blog post today and kick off your week right next Monday with this can't miss event.
For more information on Beers in Sac, click here: http://www.beersinsac.com/
For more information on Oak Park Brewing Company, click here: http://www.opbrewco.com/