This is a guest blog post by Joe Hernandez, 2019 Metro EDGE Vice Chair and the 2019 Leading EDGE award recipient. Metro EDGE established the Leading EDGE award program to gift funds to support its members' participation in Metro Chamber programs. Joe received an award to attend the Metro Chamber's annual Capitol-to-Capitol advocacy program from May 4th to 8th and is excited to share about his experience and takeaways with fellow EDGErs. You can connect with Joe on LinkedIn, Instagram, Facebook, or Twitter.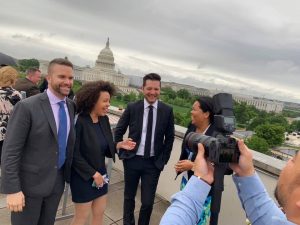 As I embarked on the journey that was Capitol-to-Capitol 2019, I was excited, intimidated, and anxious, but I was also ready. Much like any other experience, you only get out what you put in, so I was determined to maximize my experience.
Cap-to-Cap is an annual program of the Metro Chamber in which over 300 regional leaders travel to Washington, D.C. to meet with key delegates. The overall goal of the trip is to advocate and educate on critical issues that affect our region. Cap-to-Cap is another way that the chamber strengthens our region by holding true to its 4-point Business Promise: strong business, connected region, ready workforce, and vibrant community.
You might envision Cap-to-Cap as a circuit of tedious legislative meetings on Capitol Hill. This is not the case. Although legislative visits are a cornerstone of the program, Cap-to-Cap is so much more: valuable networking, immersive site visits, and influential conversations are all part of the experience. There is a place for everyone at Cap-to-Cap. You can find your niche among various issue teams:
Air Quality

Civic Amenities

Community Resources

Flood Protection

Food & Agriculture

Health Care

Land Use & Natural Resources

Public Safety

Transportation

Water Resources

Workforce Development & Education
Here's what you can expect during your Cap-to-Cap trip:
Day 1: Grab your coffee and your business cards because you're about to meet a whole lot of people. Don't be too stressed about your appearance at the
Welcome Reception because everyone else is jet-lagged too. Thank you to Hefner Law for the invite to their elegant dinner and The Metro Chamber Foundation for their late-night happy hour. #Connect
Day 2: Work hard, play hard. You're a socialite, but make sure you save time to review your talking points and issue papers for delegate meetings that are to come in the next 48 hours. Luckily, your Cap-to-Cap issue team has already spent months preparing these for you beforehand. This makes it easy for anyone to be an advocate. Your day may consist of Dignity Health's elbow-rubbing brunch, Paratransit and Safe Credit Union's sightseeing cruise, The Chair's Reception, or Delfino Madden LLP and Kaiser Permanente's cityscape dinner. You can even schedule your own adventure in the nation's capital.
Day 3: Put those talking points to use during your multiple legislative meetings. Keep it short and concise. Your teammates will be there to help you convey the message with winning impact. Later, you can hope to be dancing and dining with Teichert and Sutter Health. #Collaborate
Day 4: Clean. Rinse. Repeat. This evening is concluded with The Delegation Gala, so dress to impress. The highlight of the day was our featured speaker, United States Secretary of State Madeleine Albright! #Cooperate
Day 5: Attend the program's last panel and pack your things. You're exhausted, but you've survived this year's Cap-to-Cap!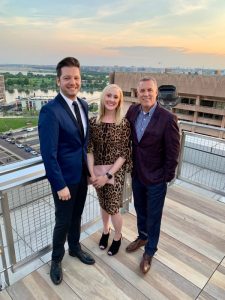 My five days in Washington D.C. led to many new connections, including some of our region's most influential leaders. Cap-to-Cap was an amazing experience full of new and familiar faces, powerful conversations, and inspiring speakers. It's an honor to have participated alongside leaders who have helped shape Sacramento into the place it is today. I am encouraged as the Metro Chamber community continues to recognize the importance of leveraging the young professional voice and creating opportunities for an equal place at the table. Thank you, Metro Chamber and Metro EDGE, for the chance to engage in such an enriching program. And congratulations to the Cap-to-Cap 2019 leadership team for another successful program. This trip proves once again that you can #MakeYourMark and still have fun while doing it. I look forward to next year's trip as Cap-to-Cap turns 50 years old!