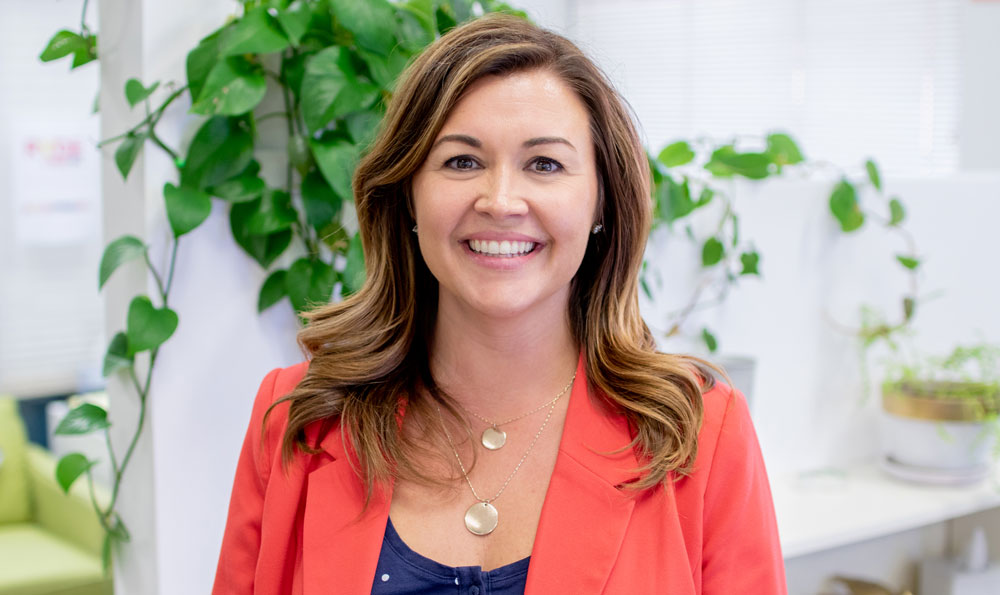 Words of Wisdom is a monthly interview on the Metro EDGE blog with an executive who is making an impact in the Sacramento community. Think of these interviews as a mini Executive Insight where you will receive valuable career advice that will help you grow as a young professional! This month's interview is with Jamie Von Sossan, CEO of 3fold Communications. Jamie was a long time EDGEr and the 2020 Program Chair of Leadership Sacramento. Read Jamie's interview below to learn more about her and her advice to young professionals everywhere.
What are three things you wish you'd known as you embarked on your career?
That it's okay to NOT know what you want to do in your career. I had a lot of pressure early on to decide where I wanted the rest of my life to go, and I think at 21, 22, 23 years old, that's too much to ask. I got lucky finding a job in sports and was luckier that I loved it as much as I did. I gave it everything I had and I learned so much about myself, about what I liked doing, and what I didn't like doing. I also realized that a title doesn't really mean much – it's about what you give to your position and to the company. Your actions speak volumes – your grit and tenacity and willingness to learn – that's what will open doors and opportunities.
Did you have a mentor? If so, what was the most important piece of advice they gave you?
I didn't have a mentor, per se. I did have really great bosses, though. And colleagues. And clients or customers. I've learned so much from every boss I've had since I started my professional career. I was always aware of how much more I had to learn – no matter how good I was at my job. I'm also a relationship person – so through friendships, co-working relationships, peers – I am always trying to surround myself with people who I jive with, but that I can learn from. Life provides you with so many opportunities for mentors – it's all about how you look at people and what they can bring to your life.
How did/do you handle work/life balance?
Ah, is there such a thing?! I actually don't believe there's a lot of "balance" when it comes to work and life. One thing is always heavier than the other – and that's okay! Some days you need to give more attention to your life than your work, and vice versa. The key is recognizing those moments and accepting them for what they are. Letting go of the guilt around needing to pay more attention to your work than your kids at that moment. Because at the next moment, you're going to be spending more time with your kids than focusing on work. Life is so different this year than it was last year, than it was the year before that, and so on. The balance comes from accepting and being aware of the imbalance and being okay with it. You can't plan every minute of your day and expect to be happy. If you can remain fluid and flexible and open, your expectations for "balance" or "happiness" or "sanity" are more manageable.
Do you have any suggestions of books, articles, websites, podcasts, etc. that might help a young professional?
I feel so old in saying that I don't do a lot of podcasts, but the one I do listen to is Donald Miller's StoryBrand and his Business Made Simple books and online classes. I also read Harvard Business Journal and Harvard Business Review articles, and have a lot of those books.
How important is it to be involved in organizations outside of work (church, networking, philanthropy, community-based, alumni, athletics, etc.)? Why?
It's important for perspective. When we work, we're roaming within this very small bubble network – same people, same conversations. When we're able to get outside of our bubble, we have new conversations with new people and new perspectives. And somehow it all makes its way back to your work bubble. It took me a long time to figure out where I wanted to spend additional time away from work – and with two young boys that time is precious, so it needed to be worth it. I decided to spend my time on the board of their little league to give my time to something that would benefit them and our neighborhood. 
What do you love about Sacramento? 
Everything, honestly. I was raised in Lincoln, Nebraska before moving to Sacramento 17 years ago and Sacramento is such an amazing place to transition to. My husband and I moved here long before we had kids, and even then, there was so much to do and experience. Now with kids, and how much Sac has changed in 17 years, it's even better than I could have imagined it. It's clean, it's vibrant, it still needs work (which gives me purpose), it's friendly, and it's fun. It's home.
Is there anything else you'd like to tell the 40 and under business professionals in our region?
Make your place. If you're in a position where you don't feel you're doing your best, or you don't feel like you're being utilized for your top skills and talents – have that conversation with your supervisor or boss. Don't assume that the leadership above you fully understands who you are, what you can bring to the table, or what you want to do in life. And don't fault them for that – they're running a department or a company. Your trajectory and your success depends on your voice and your ability to stand up and say, "I can do this. I want to do this. I am good at this. Let me show you how I can make this work at this company. Because I love working here, and I want to be fully utilized." Good leaders can't ignore that kind of "real." Take your growth and development into your own hands and build yourself up.
To connect with Jaime, you can reach her on LinkedIn and Instagram @jamievonsossan!