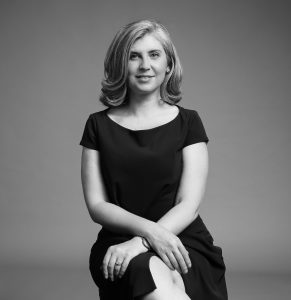 Words of Wisdom is a monthly interview on the Metro EDGE blog with an executive who is making an impact in the Sacramento community. Think of these interviews as a mini Executive Insight where you will receive valuable career advice that will help you grow as a young professional! This month's interview is with Amanda Blackwood, President and CEO of the Sacramento Metro Chamber of Commerce. Amanda was recently named a Most Admired CEO honoree and a 2020 Women Who Mean Business honoree by the Sacramento Business Journal. Read Amanda's interview below to learn more about her and her advice to young professionals everywhere.
What are three things you wish you'd known as you embarked on your career?
A "mentor" is not a set architype and to expect that s/he is all things at all times will really inhibit your ability to make the most from those relationships. For instance, some mentors give you affirmation and support. Some are most effective at being that real-talk, accountability partner when you've gotten a little too wrapped up in your own ego. Some mentors are all about making connections for you and some are there to push you to pave your own way and build up your tool kit. Each experience is very valuable in itself so be grateful for the value that each person is bringing to your journey and lean all the way into that.

Never assume. The worst decisions I have ever made were based on assumptions that were wildly incorrect. In this day of text/email/online communication it is very easy to jump to conclusions that may have some element of truth, but often are missing very critical context. The best advice I could ever give is to assume positive intent first, pick up the phone, and come from a place of seeking understanding instead of  confirming the story you have concocted in your own mind. You'll be glad you did.

Go where you are celebrated, not where you are tolerated. If you find yourself in a work situation that requires you to compromise your integrity or personal values, to allow people to be treated in a way that you don't agree with, or that forces you to dim your light or operate outside of your strengths for a sustained period – run! Our time on this earth is precious and the sooner you shed a toxic environment the sooner you will truly flourish both professionally and personally. 
Did you have a mentor? If so, what was the most important piece of advice they gave you?
See my first answer! Yes, I've had many. Each person contributed in his/her own unique ways but some of the most valuable advice I could share are the following two mantras that I reflect on quite often:
"Never be afraid to lose what you don't have now."  
The fear of perceived loss is very powerful but really, you don't have it now so go for it! You'll either progress forward, getting more information than you had before, or you'll just be in the same place you were before you started. You've got much more to gain than to lose. 
"You can have it all – just not all at once."
Some of the best advice I ever received was to understand that you are a human being with finite energy. All things that you master inherently take time. So you've got to be ok with giving up some level of perfection in one area to make space for something else. Prioritize what really matters and set the rest on the shelf for another day. 
How did/do you handle work/life balance?
Let's be candid - I love work. It's my favorite thing to do. More than cooking. More than music. More than just about anything. And I say that because I think there is a pressure on women – particularly working moms – that we should be ashamed of that and somehow throw in a bunch of hobbies to "balance us out." With that said, there have definitely been moments in my life where I went so deep into work mode that critical relationships and my health suffered from that. 
For me it's more an issue of being fully present in what I'm doing rather than a defined amount of time in each bucket. When I'm at work – I am 100% focused on that. When I'm in mama mode or spending time with my husband – I am 100% focused on that. 
And I physically create the space conducive to allowing me to be present. When I'm in mama mode, the phone stays in the office with the door closed. When I'm in the work zone, my headphones are on and that basket of laundry can wait for another day. Being present makes the most of the effort and saves my energy for where I really want to spend it. 
Do you have any suggestions of books, articles, websites, podcasts, etc. that might help a young professional?
Yes! Most life changing books for me (if you know me, I probably gave you a copy): 
Good to Great by Jim Collins - Insight into what sets apart truly exceptional companies 
The One Thing by Gary Keller - All about time and energy management. Can't do it all! 
The 5 Levels of Leadership by John Maxwell - Lessons on leading in a way that creates exponential impact
The Four Agreements by don Miguel Ruiz - Simples lessons on how to live a life of integrity 
The Gifts of Imperfection by Brene Brown - All about the importance of empathy for yourself and others 
Leaders Eat Last by Simon Sinek - Life lessons on bringing awareness to how leaders affect the lives of others and how to create as much positive impact as we can through our own behaviors
How important is it to be involved in organizations outside of work (church, networking, philanthropy, community-based, alumni, athletics, etc.)? Why?
Practically speaking, getting involved in things outside of work is one of the best ways to grow your leadership and skills toolkit. If you don't know anything about budgeting, volunteer for the finance committee. If you want to learn how to manage people, volunteer to organize an event. It's really an opportunity for you to stretch your skills in a space that is potentially less high risk than just throwing yourself out there in the workplace. 
From a 30,000 foot perspective however, getting involved in the community is critical to your growth as a leader. Diversity of perspective, experience, and world view is an essential arrow in your quiver of leadership. It is not until we learn to suspend ourselves from our own unique experience, see our bias from an objective standpoint, and tackle issues from that place of clarity that we can truly be of service in the most meaningful way. 
What do you love about Sacramento? 
We never give up. No matter the obstacles that are thrown our direction, the energy of this region is resilient to the core. That is authentic to who we are and will power the change necessary to build the world that we want to leave our children. 
Is there anything else you'd like to tell the 40 and under business professionals in our region?
Know this: While we are all on a journey and have goals we wish to reach, you are perfect and whole as you are right now. You don't need anyone's permission or affirmation to be of value. Your story, your experience, and your unique view on the world brings exceptional value just as you are. You won't be worthy when, you are worthy now. So step up, lean in, and create the world you wish to live in. It's all up to you.
Connect with Amanda on LinkedIn today!