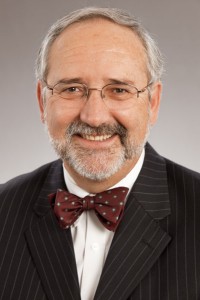 Larry Garcia
Partner
Gordon & Rees LLP
Email Larry
What are three things you wish you'd known as you embarked on your career:
1.   You have to play the hand that is dealt to you
2.   Active listening is an under-valued skill
3.    Treating everyone with dignity and respect will earn the respect of both friend and foe alike
Did you have a mentor? If so, what was the most important piece of advice they gave you?
No particular mentor but I sought advice from several people that I admired.
How did/do you handle work/life balance?  
Not very well.  My family still believe that I am a hopeless workaholic.
Do you have any suggestions of books, articles, websites, etc. that might help a young professional?   
No I found the best help to come from individuals that I knew and respected.
Is there anything else you'd like to tell the 40 and under business professionals in our region?  
Yes, the demographics of our region are changing rapidly and in very years, the Baby Boomers will leave the workplace in significant numbers.  This will require an significant investment in an educated and motivated workforce.  It will also create great opportunities for those who are ready.