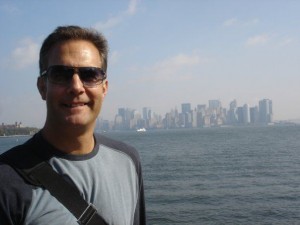 John Nicolaus
Principal Landscape Architect
Mogavero Notestine Associates
Email John
What are three things you wish you'd known as you embarked on your career:
1. That it is possible to lose significant ground in your career, even when you've been on top.  The Recession has been "character building" for sure.

2. The true value of community connections.
3. Just because you're done with college, doesn't mean you're done learning.
Did you have a mentor? If so, what was the most important piece of advice they gave you?
Not really, but I learned by watching successful people and emulating them.  My bosses basically let me do what I wanted, because I was doing things that people who were considered successful were doing.
How did/do you handle work/life balance?
At first I didn't.  I brought work home most nights, was the first person in the office for over 10 years, and was on tons of boards and committees.  Once I became a dad, that wasn't really sustainable, but I finally realized that things would happen and get done (always very well) if I were more balanced and efficient at the same time.
Do you have any suggestions of books, articles, websites, etc. that might help a young professional?  Read the online version of The New York Times as often and as thoroughly as you can.  The content is broad and the knowledge transfers to many different venues in business and life.
Is there anything else you'd like to tell the 40 and under business professionals in our region?
No matter what, always give back to your community.  Not just your personal community like kids' schools or church (which are important), but the broader community.  The networks you build will stay with you forever.  Oh:  and one more thing:  never screw anyone over.  In this town, if you do, it will follow you forever.  Goodwill will carry you through any downturn.