Words of Wisdom is a monthly interview on the Metro EDGE blog with an executive who is making an impact in the Sacramento community. Think of these interviews as a mini Executive Insight where you will receive valuable career advice that will help you grow as a young professional! This month's interview is with Dr. Michael Marion Jr., Bureau Chief at the California State Bureau for Private Postsecondary Education. Fun fact: Michael served as the 2015 Metro EDGE Chair! Michael is also a published author. His most recent book, A Sketch, is a collection of poems focused on reframing the black man's destructive narrative. Read on to learn more about Michael and his advice for young professionals.
---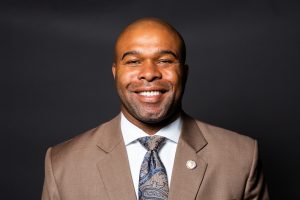 What are three things you wish you'd known as you embarked on your career?
How to enjoy and embrace the journey, not just the destination.
It's not only about what you do from 9 p.m. to 5 p.m., but also what you do from 5 p.m. to 9 p.m.
Continual self-care (eat right, proper sleep, counseling, fitness, and a financial advisor). 
Did you have a mentor? If so, what was the most important piece of advice they gave you?
Yes, I have a few mentors. One of the best pieces of advice I was given was, "It's a marathon, not a sprint."
How did/do you handle work/life balance?
In my 20s and early 30s it was easy because I didn't have a family, but these days I try to center my life around my family. It's not always easy, but that's the goal. It's about balance.   
Do you have any suggestions of books, articles, websites, podcasts, etc. that might help a young professional?
Jump by Steve Harvey
Principles by Ray Dalio
 The Millionaire Next Door by Thomas J Stanley & William D Danko
The Book of Joy by Dalai Lama and Desmond Tutu
How important is it to be involved in organizations outside of work (church, networking, philanthropy, community-based, alumni, athletics, etc.)? Why?
I believe it's very important to be involved in an organization outside of work; that's how you build a sense of community. Work is what I do, and I enjoy it, but it's not who I am. My community is a part of who I am.  
What do you love about Sacramento?
I love the people! I love the activism and art. I love the innovation. I love the big city/small community feel. I love the outdoors. I love the food and beverage scene (we just need a Jamaican/Caribbean restaurant). Sacramento has been great to me, and my family!
Is there anything else you'd like to tell the 40 and under business professionals in our region?
Embrace difference, step out of your comfort zone, and look within your inner circle of friends and ask yourself, "Who and what perspectives are missing?" 
What are your social media handles if any?
Website: MarionEDU.com / IG: DrMarionEDU / Twitter: DrMarionEDU
---
Thank you to Dr. Michael Marion Jr. for sharing such great insight with Metro EDGE! If you want to reach out to Michael with more questions, you can do so here.