Words of Wisdom is a monthly interview on the Metro EDGE blog with an executive who is making an impact in the Sacramento community. Think of these interviews as a mini Executive Insight where you will receive valuable career advice that will help you grow as a young professional! This month's interview is with Leigh White, Vice President and General Manager of FOX40. Leigh is also the 2020 Chair of the Metro Chamber Board of Directors. Read on to learn more about Leigh and the advice she has for young professionals.
---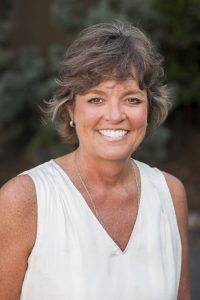 What are three things you wish you'd known as you embarked on your career?
I would have put more value in accounting and finance classes in college.
Less fear of failure, as there is always a seed of success in a failure.
Understanding that obstacles don't block the path, they are the path. (That's a zen thing that I forget who to attribute it to.) Early in my career I thought obstacles were hindrances, but I now realize they are simply part of it and to expect it, don't fight it.
Did you have a mentor? If so, what was the most important piece of advice they gave you?
Yes, my GM in Knoxville at WBIR-TV. He always said "Be yourself, be authentic. Do good work and it always comes back in good ways. You make your own luck."
How did/do you handle work/life balance?
I am better at the balance issue in the past six years. I am an ovarian cancer survivor, which changed everything. So now, I don't worry about things I can't control, and I live every moment without regret, and I really don't stress over much. I do my best each day and what will be will be!
Do you have any suggestions of books, articles, websites, podcasts, etc. that might help a young professional?
One of my favorite books is "The Four Agreements" by Don Miguel Ruiz. It's a short and simple read, and the four agreements really do cover just about anything you run across in your personal life and career. It's amazing and life changing.
How important is it to be involved in organizations outside of work (church, networking, philanthropy, community-based, alumni, athletics, etc.)? Why?
Very important. Everyone needs perspective and experiences with those that are not in your usual circle. The key to successful relationships lies solely in our ability to take the perspective of another. Perspective is that all important skill of being able to look at things from a point of view other than our own, and it brings in the mindfulness of compassion and empathy to our relationships.
What do you love about Sacramento? 
I love the sense of community, and the diversity and inclusion that most everyone shares. The geographical location is also pretty cool: to be able to ski and play golf in the same weekend, then hit Napa another weekend, and San Francisco another weekend, and not have to fly to these destinations. Being so close to so many cool things to do is truly amazing.
Is there anything else you'd like to tell the 40 and under business professionals in our region?
Don't be afraid to reach out to those in leadership roles and ask them to coffee, lunch, etc. just to get to know them and grow your network of influencers. I can't think of any leader in the region that would not take time with a YP to share perspective, knowledge, and experiences. If you are genuine in the ask and allow for a little time to get on someone's busy calendar, I am confident that it will happen, and both parties will enjoy the experience. Be brave and ask! And remember, we are baby boomers; we won't likely respond to a LinkedIn message invitation.  Pick up the phone and call.
What are your social media handles if any?
I am not active with social media; I have a Facebook page and a LinkedIn profile but I rarely look at either. I call my friends and hang out with them.
---
Thank you to Leigh White for sharing such great insight with Metro EDGE! If you want to reach out to Leigh with more questions, you can do so here.