At Metro EDGE, we know true mentors are hard to come by these days and that our members are eager to learn what it takes to be successful. Words of Wisdom is a new series featuring some of Sacramento's brightest CEOs, executives and leaders sharing their advice with the region's young professionals. Flip your brain over to sponge mode and soak this up.
Kitty O'Neal
Afternoon News Anchor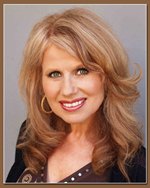 KFBK
Email Kitty
Do you have a mentor?  What was his/her most influential piece of advice?
I was fortunate to have several wonderful mentors who offset the influences of a couple of negative people who somehow ended up in management.  My best bosses understood my strengths and helped me to focus on what worked for me and was best for the job as well.   There may be people who will want you to move in ways that are uncomfortable for you, but try to stand your ground or find another place to go.  You'll have a better shot at flourishing if you're not feeling compromised.  It's okay to be flexible, but you've got to feel like what you're doing is a good fit for you.
How did/do you handle work/life balance? Do you believe it exists?
It's changed over the years.   When I first started out, I was all about the work, but that's probably good because I was trying to establish myself.  I took on every job offered to me and rarely turned down an invitation to get out into the community.   I don't regret any of it.   But as time goes by and I've lost loved ones in my life, it's become quite clear that the time you spend with people you care about is critical and you'll never get it back.
If you pay attention to yourself, I think you'll know when you've overloaded yourself and it's time to step back.  And vacations…I'm a big proponent of vacations.  You need to break away and get new perspective on yourself and the world.  Travel if you can.  I do some of my best work after coming back from time off.
But when you're first starting out and planting the seeds of a career…it takes time and effort and there's no way around that.
What traits/characteristics best lead to a successful career?
The ability or willingness to work hard.  Sacrifice often begets success.
Not being too willful or forceful in your own opinions when dealing with others.  Unless it's a moral or ethical issue that requires you to stand firm, you've got to find a way to make things work.
Honesty—there are no shortcuts there.  And being considerate to people of every position.  We've had interns who have ended up in management, so you never know who you may have to answer to at some point.  But treating everyone well is just the right thing to do.  Period.
You've already achieved success. How do you stay motivated?
I love what I do.
How important is it to be involved in organizations outside of work (church, networking groups, philanthropy, alumni groups, athletic groups, etc.)?
You have to stay well-rounded as a person.  Outside connections, giving of yourself to help others, bettering yourself educationally and/or physically, and most importantly finding a spiritual compass will make you better at your job. You'll be happier, too.
What do you love about Sacramento?
I love the collection of people who are so passionate about their particular areas of interest.  The arts groups, the sports fans, the foodies, the animal advocates, the nature-lovers, the history buffs, the writers, the charitable groups.   I get to work with so many of these people and are so impressed with the dedication they put into their craft, discipline, or area of interest.  They get things done, they bring color and movement, they make our city interesting and vibrant.