Words of Wisdom is a monthly interview on the Metro EDGE blog with an executive who is making an impact in the Sacramento community. Think of these interviews as a mini Executive Insight where you will receive valuable career advice that will help you grow as a young professional! This month's interview is with Alex Taghavian, Partner and Shareholder at Capitol Impact. Alex also serves on the U.S. Chamber of Commerce Foundation T3 Innovation Network and on the board of directors of the Los Rios Colleges Foundation. Alex was honored as one of Sacramento Business Journal's 40 under 40. Read on to learn more about Alex and his advice for young professionals.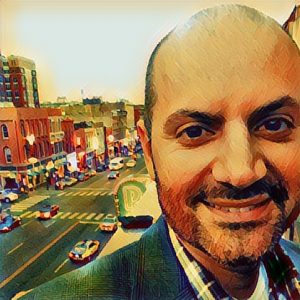 Describe your path from when you were 25, and what your current job is.
At 25, I was three years out of college and promoted from an entry-level position to a career track position. Along the way, I did a few things:
Stayed hungry - moved to objectively and intangibly add value to my employer regardless of my compensation level.

Balanced career with other life priorities. See

Michael Hyatt's LifeScore Assessment

.

Invested in further education - earning a master and doctorate degree while still working full-time and raising a family.

Participated in community networks - showing up for and serving others. Your network will strengthen in proportion to your generosity.

Read constantly to continually learn – I have collected a professional library over the years. Many of the authors and their books served as mentors to me (and still do). I've also found a group of podcasts and Twitter handles that have become invaluable sources of personal and professional growth.
Currently, I'm a partner/shareholder of Capitol Impact, a Sacramento-based consulting firm that specializes in social impact challenges across California.
What are three things you wish you'd known as you embarked on your career?
Experiment with volunteering for causes and nonprofits that pique your interest. When you find a good fit, dive in.

Invest in opportunities to develop yourself (i.e. building expertise, relationships, serving). Those skills and networks will grow exponentially over time. Compound interest applies to many domains of life beyond money.

Strive to become a "T" shaped person. Develop a broad set of leadership and entrepreneurial skills while also becoming a deep expert in one category. More on that

here.
Did you have a mentor? If so, what was the most important piece of advice they gave you?
Yes – I have always had a team of mentors, some professional with whom I meet with on a regular basis. Others, I have yet to meet but consistently depend on their wisdom from podcasts and books. Moreover, this mentor group changes as time passes. Some mentors are in my life for a specific season; I was looking to learn a specific skill, so I pursued a mentor who was best-in-class at that thing. Other experiences moved me to pursue a mentor who had gone through the same professional experience.
How did/do you handle work/life balance?
I am relentless about work-life balance. This is non-negotiable and I take setting an example for my staff very seriously. Candidly, I think the idea of a 40-hour workweek is an anachronism for most careers.
Here's one of my favorite quotes on this topic:
"Forty-hour workweeks are a relic of the Industrial Age. Knowledge workers function like athletes - train and sprint, then rest and reassess." – Naval Ravikant
Do you have any suggestions of books, articles, websites, podcasts, etc. that might help a young professional?
The following are all mentors to me for different reasons. I strongly encourage you to follow them on Twitter, listen to their podcasts (or as podcast guests), and read their books if you want more.
       

Matt Mullenweg @photomatt

       

Scott Adams @ScottAdamsSays

       

Cynthia Thurlow @_CynthiaThurlow

       

Naval Ravikant @naval

       

Sarah Cone @sarah_cone

       

James Clear @JamesClear

       

Adam Grant @AdamMGrant

       

Ramit Sethi @ramit

       

Kevin Kelly @kevin2kelly
I keep an indispensable book list as well. All of these books have changed my life in some concrete way.
Skin in the Game

by Nicholas Nassim Taleb

Antifragile

by Nicholas Nassim Taleb

How to Fail at Almost Everything and Still Win Big

by Scott Adams

Conflict of Visions

by Thomas Sowell

Mindset

by Carol Dweck

Atomic Habits

by James Clear

Bold

by Peter Diamandis

Gertrude Bell: Queen of the Desert, Shaper of Nations

by Georgina Howell

Strengths Finder

by Tom Rath

Zero to One

by Peter Thiel

Up from Slavery

by Booker T. Washington

Essentialism

by Greg McKeown
How do you approach making decisions to be involved in organizations outside of work (church, networking, philanthropy, community-based, alumni, athletics, etc.)? How did your approach change as you progressed in your career?
Time is my most valuable asset, so I strive to optimize how I spend it every day. As a heuristic, before I say "yes" to something that will require my time, it must feel like a "Hell Yes!" decision; a 9 out of 10.  Conversely, if I assess that the opportunity is an 8 or less, then my answer is "no." This applies to everything: dinner events, requests for coffee, meetings, conferences. Even a book should be evaluated based upon how much time it takes you to read it. Learn more about how to optimize your time here.
I don't have a mental model or rule for dealing with change. The book Antifragile has a lot to offer in terms of how to think about decision-making in light of risk, volatility, and randomness. It is a deep and practical guide for thinking about change.
What do you love about Sacramento?
Sacramento is getting objectively better every month. I could write a detailed list, but in short I love the following:
Year-round outdoor lifestyle

Gateway to everything that's incredible about Northern California

Abundance of insanely good food and restaurants

Midwestern feel

Arguably the last city in California that is accessible to build a life, raise a family, and retire

Live music at Provisions in Sutter Creek

Sacramento Republic FC

V. Miller Meats, Corti Brothers, Sunh Fish, Oblivion Comics & Coffee, farmers' markets
Is there anything else you'd like to tell the 40 and under business professionals in our region?
Stay hungry. Seek opportunities that get you out of your comfort zone. At the same time, learn your strengths and optimize your time to leverage those strengths to create enduring value. Love your city. Dedicate at least 10% of your time to improving our community in a way that animates you.
Thank you to Alex Taghavian for sharing such great insight with Metro EDGE! If you want to reach out to Alex with more questions, you can do so here.