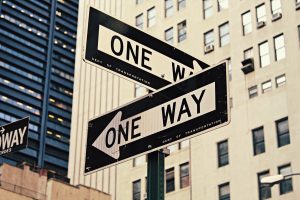 by Katelyn Downey, Communications Committee
The adage "it's not what you know, it's who you know" rings true - especially when you're looking to make a career change. Maybe you've been in your current position for years and have decided to follow your passion and make your side hustle a full-time gig. Or maybe you've just spent a year in a position and know it's not the right industry for you. Whatever the reason for your career change, a good network of people is going to increase your chance of landing a coveted new position. And a great way to automatically grow your network by 600+ young professionals (and access to their networks) - Metro EDGE! Here are four ways to leverage your membership into your next role.
Network with Connectors
Metro EDGE members come from a myriad of business, public and nonprofit sectors with diverse backgrounds and education levels. Networking isn't (always) about meeting as many people as possible - it's about meeting the connectors who can open your eyes to new opportunities. And who knows - you might be able to open doors for them as well. From monthly mixers, to forums to opportunities to volunteer - EDGE has a ton of opportunities for you to mix and mingle with the connectors you need.
Build Transferable Skills
EDGE events are focused on developing you as a young professional - regardless of industry. Our events focus on networking, leadership, giving back to the community, fundraising - all great skills to put on your resume regardless of industry you're in. Want to take it up a notch? Join a committee! Help us plan an event, generate philanthropic opportunities or develop partnerships with businesses in our community. All of this will allow you to further develop your skill set - while expanding your network.
Meet someone who's 'Been There, Done That'
Don't reinvent the wheel. You already know Metro EDGE is full of connectors, but chances are there is someone who has made a similar change to what you're considering! Even if they haven't made the same change as you, connecting with someone you can provide you support and ideas will be beneficial. Let yourself be inspired.
Be in the Know
Gain access to a hidden job market. Employees are often the first to know of job opportunities at their company, even before they are posted - giving you the ability to pitch yourself for the position first. You'll also get information on industry specific events and insider knowledge on how to leverage your current skill set to fit your next role. Who knows, you might even meet your future boss at one of our monthly mixers.
Making a career change can be scary! Dip your toes in the water and take an easy first step - join Metro EDGE and attend one of our next events. See you soon!
---
Katelyn Downey is a Senior Account Manager at Perry Communications Group. She is currently a member of the Communications Committee and served as the Communications Chair for the Emerge Summit in 2017 and 2018. Connect with her on LinkedIn.