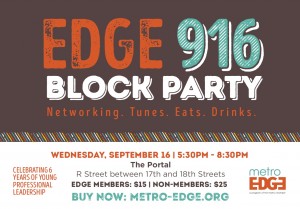 All We Want for Our Birthday is YOU!
Sacramento is redefining itself and THIS is the generation who will decide and realize that vision. What better way to celebrate our accomplishments than to throw the largest YP party of the year—EDGE 916! Celebrate Metro EDGE's 6th birthday on September 16 and see what the region's best and brightest young professionals are all about! Enjoy an evening of networking, interactive art, delicious bites and a live DJ set. As part of the celebration, EDGE has lowered the membership rate to $85 for the whole month of September - that's 30 percent off the normal rate! Still need some convincing? Here are few reasons why you attend.
Location – EDGE is taking it to the streets and throwing a block

party in front of "PORTAL," a temporary art installation that serves as a flexible space for community members to visualize the future of the region. The installation operates as an urban incubator for discovery, gathering, and experimentation. It will be the art feature's last day outside the Ice Blocks development on R Street between 17th and 19th streets.

Celebrate - Expand your network with the region's top energetic, ambitious and driven professionals. Take a trip down memory lane with us and celebrate all we've done together over the last six years.
Membership - It may be our birthday, but we're giving you the gift … of membership! Renew your EDGE membership at the birthday rate of $85 – that's up to 30 percent off! Still need to join? There's no better time than now.
Food – Everyone's favorite sausage hotspot and bierhall— Low Brau — will be serving up hosted bites all evening.
Music – A DJ set from Sister Crayon, 2014 TBD Fest artist and locally-grown group, will provide the beats for the art and networking exploration!