By Emilie Cameron
Immediate Past Chair, Metro EDGE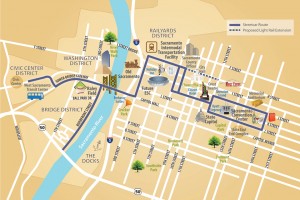 I've lived in midtown Sacramento for more than a decade, working on the grid nearly as long so it's pretty easy for me to say I am invested in making the place I live and work (and let's not forget play) the absolute best it can be. I've seen first hand what happens when people are willing to dream about the city they want to be, and not be satisfied with what exists today. Case and point: Midtown's thriving culinary and nightlife scene, Downtown's business resurgence, and West Sacramento's burgeoning Riverfront.
Last month I embarked on a new professional journey, joining the Downtown Sacramento Partnership as the new Policy & Advocacy Manager, where it's my job to advocate for policies that will support downtown Sacramento to be better every day. Yes, they actually pay me to do this!
There are so many great things happening in our City's core, wouldn't be nice to find an easier way to get from one place to the next while reducing your carbon footprint and contributing to activities that can spur our local economy? Year after year, EDGErs declare transportation is a top priority for them in the annual Metro EDGE survey.
I have great news; the Downtown Riverfront Streetcar will be an important part of creating a cohesive transportation network between signature destinations: midtown, the convention center, the state Capitol, K Street, the planned new arena, Sacramento Valley Station, Old Sacramento, Raley Field and West Sacramento.
Coming from a creative marketing agency, it's been a bit of an adjustment to pull out the "professional" again. My morning routine tends to be filled with the same questions day after day: Is the suit pressed? Do my heels match? How does my hair look? Makeup? And, let's not forget the fact that my purse now easily weighs in at more than 20lbs when you add up the wallet, laptop, notebook(s), flats, makeup bag, water bottle, etc. Selfishly, I want to be able hop on the streetcar rather than ruin my 'do and juggle a bag weighing more than some toddlers when riding my bike or worse, ruin my pricy heels during the 2 mile walk to the office. Don't even get me started on trying unsuccessfully to fight the urge to respond to "urgent" emails during red lights when driving – which by the way seem to never be in synch with my route. Of course what really makes me excited about taking the streetcar? Hopping on to head home after happy hour – no more 2.5x fares from Uber!
The Downtown Riverfront Streetcar project is just on the horizon for Sacramento – but there's one VERY important step that must happen before it rises.
Right now an all-mailed special election is going on for City of Sacramento voters who live within three blocks of the proposed streetcar line (see map) to determine the outcome of Measure B: Sacramento Streetcar Facilities District.
Last month, downtown property owners approved the streetcar project through an advisory vote. The next KEY step comes now as residents vote to support the project via Measure B. To move forward, two thirds of the estimated 3,800 registered voters who live near the planned project must vote "yes" on Measure B on or before June 2.
A "yes" vote on Measure B will move the project forward. It's important to remember, renters pay nothing, seniors living in affordable units pay nothing, and homeowners pay only a few dollars a month. Commercial property owners, the very same property owners that approved the project earlier this year, will pay most of the assessment.
Wait, am I saying that you, as a renter (which is a majority of EDGErs in the voting district), can vote "yes" and pay zilch? YEP! Now, should you choose to ride the streetcar – which we both know you will – it's estimated a ride will cost you about $1-3 dollars. Again, cheaper than car ownership or those daily Uber rides.
So then, who's paying for the streetcar? The proposed $150 million project would be funded through a mix of federal, state and local commitments. Especially attractive to the project is the $75 million grant expected to come from the Federal Transportation Authority (FTA) if we can match the funds locally. The good news is most of it has already been committed:
$25 million from City of West Sacramento
$7 million from the City of Sacramento
$3 million from Sacramento County
$10 million from the State of California (yet to be allocated)
That leaves the $30 million assessment paid for by downtown and midtown property owners, again the very same owners that voted to approve the project last month. They just need you to give the okay for them to write the check. To be exact, at least two thirds of you.
We're busy YP's! We need convenience and the Downtown Riverfront Streetcar is the chance to get it while investing in Sacramento. Portland, Oregon, has been a pioneer in the development of modern streetcar systems. Like Sacramento, Portland has light rail to address commute trips from the suburbs and surrounding jurisdictions. But, the city lacked a convenient mobility option for those in central city neighborhoods who were separated from downtown by a decaying warehouse and industrial area known as the Pearl District.
The City of Portland built a 2 .5-mile streetcar line linking these neighborhoods with downtown and Portland State University. Since opening in 2001, the then Pearl District has been transformed into a vibrant, higher-density, transit-oriented, residential and mixed-use area. The streetcar line has been so successful three extension lines have been added since.
The aggregate benefits of the Downtown Riverfront Streetcar for Sacramento's private sector — in terms of new development, increased commercial rents and retail and hospitality sales — is conservatively estimated at more than $2 billion. I can say yes to that!
Metro EDGE supports the effort to advance the Downtown Streetcar project as an important tool in planning for our City's future growth. The time is now to invest in keeping Sacramento rolling forward.
Remember to cast your vote by June 2!
Join your fellow residents to learn more about the streetcar project, drop off your ballot and network during two voter information events on Thursday, May 21:
Blackbird. Kitchen + Bar Gallery, 6-8p Happy Hour pricing
Capital Dime, 6-8p Happy Hour pricing
----------------------
For more details about the streetcar project, visit http://www.riverfrontstreetcar.com/. For recent editorials about the project, follow the links below:
Payoff from streetcar line is worth a little risk (Sacramento Bee, 05.03.15)
Vote yes on streetcar, yes on Measure B (Sacramento News & Review, 05.07.15)
Streetcar is Sacramento's history and future (Sacramento News & Review, 05.07.15)