Michael Marion
2015 Metro EDGE Program Chair
Drexel University Sacramento Executive Director
and Associate Vice Provost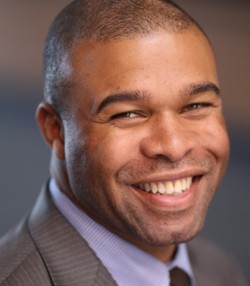 On March 27, Metro EDGE and a diverse range of young professional organizations from around the region came together to host the 2nd annual Emerge Summit.
The energy was palpable as the Crest Theater and "The Kay" area in downtown Sacramento became the focal point where more than 600 young professionals gathered to take ownership of their careers, communities and cities.
Seeing so many people from so many different backgrounds all taking active roles to improve not only themselves but their communities was inspiring. It made me proud to think of what we as a city are capable of when we put aside our differences and come together for a common goal. The open sharing of ideas reminded me of an old Time Magazine article that anointed Sacramento as the "Most Diverse City in America."
One could argue that New York City or Los Angeles might be more suited for the title, but here in California's capital, we seem to live side-by-side with one another as well as anyone.
"(S)prinkled throughout the street are more flavors than you can get at Baskin-Robbins – Mexicans, African Americans, East Indians, Asians, you name it, " the magazine stated in 2002.
Today, the data still supports this observation. The latest census figures for Sacramento breakdown at these percentages: non-Hispanic whites (47%), Hispanic or Latinos (22%), Asians (15%), African-Americans (10%), and mix-race (6%).
What the numbers don't tell you is how much progress has been quietly made since the Time Magazine piece first ran 13 years ago. The proof is displayed in our business climate, our higher education institutions, and even by our restaurants.
Attend one of our various ethnic chamber of commerce organizations and you will find the boards are no longer all one race. On the Asian, Black and Hispanic chambers you will find Caucasians, African-Americans, Latinos, Asians and Arab-Americans all serving together. The same can also be found on the boards of young professional groups such as Metro EDGE, Catalyst, Ignite, the Urban League and the Nehemiah Emerging Leaders Program.
It is a sign that our local leaders, regardless of color or background, find it critical to serve on various boards to ensure all business people thrive in our community.
Higher education leaders in our region have always been at the forefront to ensure our universities are some of the most diverse in the country. Not a single race finds themselves in a majority at Drexel University – Sacramento, UC Davis or Sacramento State. Asians, Hispanics and Caucasians are most common, but neither of these races comprises more than 40% of the student population. This leads to learning about various cultures that take place outside the classroom much more than it does inside one.
Our food and restaurant scene continues to thrive as our farm to fork movement has become one of our strongest identities. The rich plentiful soils that surround our city allow for nearly every type of fruit, vegetable, grain and nut to sprout in abundance. Our unique climate and geography allows many cultures to grow, harvest and consume the very foods their ancestors ate in their countries of origin.
Just as the various types of food from different parts of the world thrive here, so do the people who call Sacramento home. No matter where we have come from, our melting pot has produced a dish that is ripe with ingredients for a successful and thriving city.
Our blend of cultures and races, living and working side-by-side will only lead to greater achievements. If we continue to be open to various races and backgrounds, we will in turn be open to new ideas and practices that will ensure our city thrives.
Sacramento is in the midst of a renaissance and while we continue the effort to make great strides in business, higher education and agriculture, we must understand that it is our diversity that will ultimately ensure we not only reach our goals but surpass them.
Michael W. Marion, executive director and associate vice provost of Drexel University Sacramento, is chairman of Metro Edge.