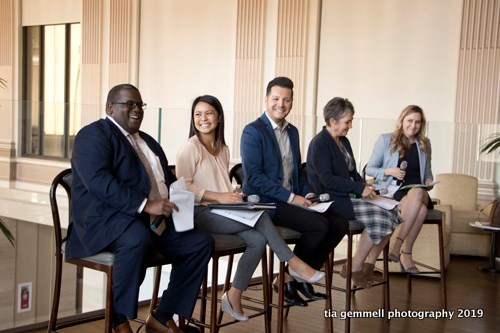 A message from Joe Hernandez, 2020 Metro EDGE Chair:
In 2019, you may have noticed that Metro EDGE got a facelift. After a decade of Engaging, Developing, Giving back, and Empowering the young professional community, it was imperative that we continue to evolve with our members and region. We commemorated our 10th year with the unveiling of a new logo that represents the successful history of our organization and the promise of what's to come. Now, as we enter a new decade in 2020 (EDGE's second decade) we're not just looking ahead, we're jumping in with both feet. Where are EDGE and the Sacramento region going? How do we continue driving economic growth through a connected and cultivated future workforce? Not surprisingly, many of our discussions have led back to the potential of our diverse landscape. Sacramento has become one of the most diverse places in the country, but the mid to senior level workforce is not reflective of our diversity. EDGE has made a commitment to help bridge the representation gap in our most influential occupations by improving our own organization and the way it contributes to the region. We believe the best EDGE is one that's connected to and representative of our communities, but even more important is a set of future leaders that are empowered to drive inclusivity in their personal and professional lives. In 2020, we're focused on ensuring EDGE is equipped and informed to build and sustain diversity, inclusion, and belonging (DIB).
So what does this mean for you? It means EDGE is only getting better. We're already home to the most  industries under one roof in Sacramento, so bringing together people from different places isn't new to us. Our enhanced DIB focus will continue to leave you feeling more connected to others on your professional journey, and give you the tools to lead and become part of Sacramento's intent to be a city where all people are not just included, but celebrated. EDGE will continue to provide signature events such as Storm the Boardroom (3/24), Executive Insight (5/19), Immersion Day (6/18) and Emerge (9/17). We know that institutionalized barriers such as racism, homophobia, ableism, transphobia, etc. require intention and commitment to ensure that they don't continue to adversely impact the region, its future, and its people. Here are same changes to set the stage for 2020 and beyond:
Diversity, Inclusion and Belonging Statement: Metro EDGE has developed a statement that defines our commitment to diversity, inclusion, and belonging for our members and our community.
Targeted Programming: We have elevated all our events by including a conscious inclusive lens during the planning process. In addition, two of our educational events will cover institutional racism and microaggressions to begin to build shared understanding of the core of many of our community challenges and how to address them.
Inclusive Communications: Our team has taken an extensive look at our external messaging (language, graphics, etc.) and has revamped our tactics, so we are better able to connect with all young professionals.
Appointed LC Positions: We have appointed two Chairs in 2020. Our Community Engagement Liaison, Anna Fontus, will be overseeing EDGE's efforts to become a better agent for diversity, inclusion and belonging. Our Ambassador Program Chair, James Richie, will lead our team of ambassadors. They will focus on creating a welcoming experience for our new members and helping them find their niche in EDGE.
Website: You will find a new landing page on our website devoted to our diversity, inclusion, and belonging work. It's a living document that will have content added throughout the year, so be sure to revisit it periodically. Check it out here!
In 2020, the next decade of Metro EDGE, we are committed to an EDGE that truly reflects the region that we serve and where all young professionals can find a place that they belong. Come as you are. We welcome you. Reach out and let's move forward together! #EDGE4All
Cheers,
Joe Hernandez
2020 Metro EDGE Chair