Written by Kerri Phillips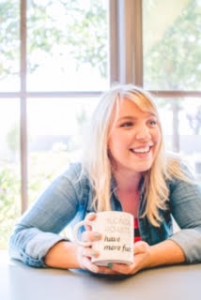 This past June, I attended my first ever Metro EDGE event hosted at the Hyatt Regency titled Executive Insight. As many of you know, this event was packed with Sacramento leaders who encouraged and inspired the young professionals in the room with their earnest and personalized advice.
During this event the Philanthropy committee was hosting a fundraiser for Reading Partners where we had the chance of winning a coffee date with one of the CEO presenters. Being new to the Sacramento area, I was pretty excited about the idea of being able to get face time with a local CEO and I appreciated the value of the prize, verses more swag. There were a few great options to choose from, but Jennifer Stolo, the CEO of Make A Wish caught my eye immediately. When she spoke at the event, she had mentioned how many years she had in the development field and I knew I could learn from her even if the meeting was only 20 minutes.
I am glad to say I won that raffle and was able to get coffee with Jennifer Stolo. She was quick to respond once she knew I had won the raffle and we met at Bloom Coffee in Roseville. Jennifer was very generous with her time and advice that morning. She gave me great, specific ideas that I started incorporating into my events immediately and have already seen an increase of benefit! Jennifer then took the time to drive out to our non-profit, Mercy Multiplied out in Lincoln and took a tour of our 40 bed home for young women overcoming life controlling disorders. Jennifer again was generous with her knowledge of the community and invited me to Make A Wish where she personally gave me a tour.
As the CEO ,you can imagine she doesn't typically lead the tours, but again, she took time out of her day to pour into a young professional. I have the utmost respect for Jennifer, her work and Make A Wish Foundation. If anyone hasn't seen their location, "The Wishing Place" in Natomas it is actually only one of five in the world of its kind!
It is quality connections like this with Jennifer Stolo and creative ideas like the "Coffee with a CEO" raffle why I love Metro EDGE. I appreciate their events and the philanthropy committee's commitment to fundraising throughout the year for their non-profit partner. Metro Edge creates and sustains partnerships and it is much appreciated.