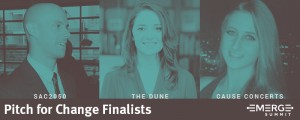 Metro EDGE announces three finalists moving onto the next round of Pitch for Change, a contest encouraging local young professionals to share their great idea to make the Sacramento region an even better place to live.
On Friday, March 18, each finalist will present their concept at the Emerge Summit, a gathering of more than 600 young professionals from the Sacramento region and beyond. Attendees will vote for their favorite idea and the winner will be announced live on stage. The winner will receive mentorship and marketing support from Uptown Studios valued at $5,000 to assist in taking their idea from concept to creation.
The #BeTheChange finalists include:
Cause Concerts submitted by Arielle Moyal
Cause Concerts aims to turn Sacramento's growing music scene into charitable experience. Cause Concerts would partner with venues, parks, larger music groups, event groups, and more to add a $1 increase to ticket prices, which is would then be donated to local nonprofits.
Sac2050 submitted by Ash Roughani
Sac250 makes it easier to find information from government agencies across the region in one place. Code for Sacramento launched Sac2050 to build a civic operating system and empower residents with the tools they need to accelerate quality of life improvements across six areas: the economy, education, health and families, public safety, environmental sustainability, and transportation and housing.
The DUNE submitted by Kimberly Garza
Our rivers and waterfront are great assets for Sacramento, but could use improved connectivity to our local neighborhoods and dedicated spaces to enjoy. The DUNE will be a temporary urban park along the Sacramento riverfront that seeks to create an interactive, educational and fun experience along the river as a means to connect local residents to the River.
The Pitch for Change contest embodies the spirit of the Emerge Summit, which is dedicated to empowering, motivating and showcasing young professionals. Keynote Speaker, Greta Gerwig, award winning actress and producer, will share her experience, innovative ideas, and journey to success. Gerwig will also be accompanied by Jay Sales, Innovation Strategist, and Co-Lead at The Shop at VSP, who will provide his personal insight into the challenges and choices that come with being a changemaker.
Emerge will also have 11 professional development workshops—each facilitated by different local young professional programs—centered around the theme of #BeTheChange. The inaugural Emerge Summit encouraged YPs to love and embrace the city they live in. Last year, Emerge challenged YPs to take action and own it. This year, Emerge will inspire actionable steps for YPs to make a choice, take a chance, and be the change.
Spearheaded by Metro EDGE with support from the Sacramento Metro Chamber, the Emerge Summit is a collaborative effort of regional leadership programs including: Roseville Ignite Young Professionals, Sacramento Asian Pacific Chamber of Commerce - Catalyst Program, Sacramento Regional Builders Exchange, Urban League of Greater Sacramento Young Professionals, ULI Young Leaders Group, VSP, Junior League of Sacramento, Greater Sacramento HYP- Habitat Young Professionals, Nehemiah Emerging Leaders Alumni Association, Safe Credit Union; and, many more. For more information, visit emergeypsummit.com.