Metro EDGE is made up of some pretty amazing people. Among our members we have those who run successful businesses, those who do amazing things for charities, and those who make climbing the corporate ladder look easy. What we all have in common is the desire to actively make Sacramento the best it can be. An empowered under 40 population is a great means to that end so we are asking our members to share their insights with their fellow Metro EDGErs though a new blog series. From how to make successful cold calls to what to (or not to!) wear to the office, over the next several weeks we will share the knowledge of our members to help make you, along with our fair city, the best you can be.
_________________________________________________________________________________________________________________________________________________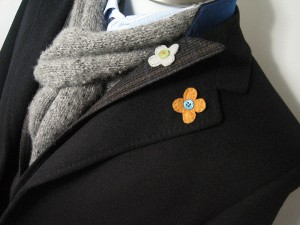 When it comes to business and entrepreneurship, one can never underestimate the power of image.  The impeccable style sense of a man is able to boost a first impression during an interview, lend credibility to a sales pitch, and transform doubts of a venture capitalist into a sense of expectancy and excitement.  Given the importance of presentation, we should all seek to continually improve our appearance while doing business.
It's all about the details
We must keep in mind that every minor detail is important to our presentation and can make a significant contribution toward the overall look.  Below, we will examine a few of the details involved in men's fashion and the sartorial appearance.  With consideration of key style elements, we can make our image a success and avoid the haphazard approach to our wardrobe.
Fit
Perhaps the most important aspect of your presentation is the fit of your clothing.  The fit of garments will define the overall shape and silhouette of your body, and can flatter just as easily as it can damage.  Here are a few key elements of proper fit:
Jacket length – Should fall between the thumb joint and tip of thumb when arms are relaxed, depending on preference and body type.
Jacket sleeves – Should be cut at the break in the wrist, creating a clean definition to the hand.
Pant waist – Should be cut tapered enough to avoid the gathering of waistband when wearing a belt.  And never wear pants that are too tight in the waist.
Pant length – Should be cut with a moderate break at front hem (A 'break' is the subtle folding of the pant leg above your shoe, and allows the pant to relax at the knee, giving shape to the leg).  The slimness of pant will affect the length required to achieve a break.
Shirts – Should be cut tapered through the stomach.  Armholes should not be too deep.  A more fitted shirt will flatter the upper body proportions and hide wrinkles in fabric.
Styling
This is the fun part.  Garment styling is what will identify your individual sense of style and personality.  Examples of styling include: jacket lapel type and width, single-breasted vs. double-breasted jacket, two-button vs. three-button, jacket center vent vs. side vent, flat front pants vs. pleated pants, spread collar vs. pointed collar, etc.  Here are some general rules to styling that should be considered:
Wider and shorter body shapes – Avoid high jacket button closures.  Choose a two-button closure, which will reduce the stomach area and maximize the chest and shoulder proportions.  Also, opt for less of a break in the pant length and choose a generous flat-front pant to avoid the blossoming effect of pleats around your seat.  Shirt collars should generally feature a medium point length without too much spread.
Taller and slimmer body shapes – Most jacket button closures will work.  If possible, choose a cut of jacket that will give definition to shoulders and shape to the chest.  Maintain a break in the pant leg.
Accessories
How a man accessorizes his look will truly set him apart from the others.  Accessories give the extra pizzazz to make the outfit interesting and unique.  Consider an assortment of leather bags or briefcases to compliment your look.  Or perhaps consider a cordovan shoe to contrast the expected and subtle nature of the navy suit.  Maybe choose to wear an overcoat and scarf to protect your jacket from the rain while adding a sartorial complexity to your appearance.  If a wool hat does not fit your preference, try a stylish umbrella.  A lapel flower or pocket square could be the added detail that brings you attention.  It all comes to balance.  Make sure your accessories balance themselves, and don't overdo it.
Maintenance
All garments should be pressed (or steamed) and free of wrinkles.  A good drycleaners will save you the time and hassle of ironing maintenance, but you should use caution in selecting your drycleaner.  They are not all created equal.  Suits should be dry-cleaned no more than 5-6 times per year.  The cleaning process is not completely healthy for the wool fibers.  Feel free to have your suits steam-pressed as often as you like.  This process will give your suits a fresh appearance without any potential damage to the garment, and is also less expensive than a cleaning.  Shirts should be laundered without the use of starch, which creates permanent wrinkles and interferes with the texture and drape of the cotton fabric.
A well-dressed man can approach any situation with improved confidence and resolve.  Not to mention, a compliment on appearance is a great start to a conversation.  Before you show up, be sure that you deserve the compliment.
Ryan Hammonds is a designer and consultant with R. Douglas Custom Clothier in Sacramento.