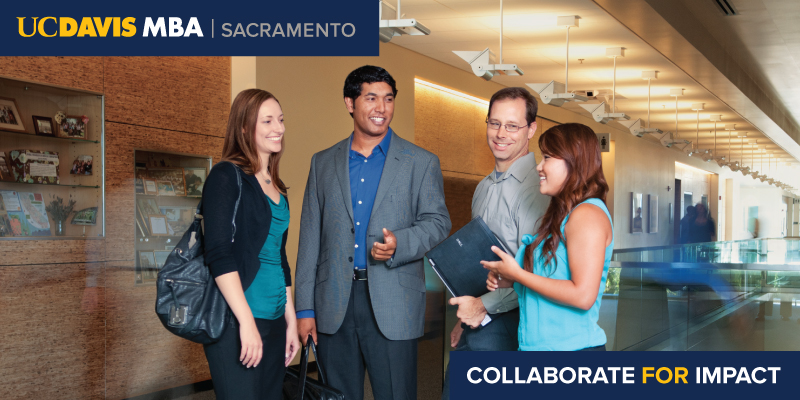 Looking for Added Edge? An MBA Empowers You as a Collaborative Leader
You have passions and aspirations. Finding a path that works for you can be daunting.
I'm a fellow EDGEr who can help you create a plan, develop a timeline and reach your professional goals. As the associate director of admissions with the UC Davis Sacramento Part-Time MBA, I encourage young professionals to consider how an MBA an help you achieve your career and personal goals.
What's Next for You?
Are you looking to move into leadership, make a career or industry transition or get your business off the ground successfully?
If you have your eyes on the salary prize—we get it!
In fact, 83% of our Part-Time MBA grads earned higher salaries, three out of five take on new roles, and and national data shows the average increase between pre- and post-MBAs to be $36,000 in annualized salary.
Designed for working professionals, the Sacramento Part-Time MBA program immerses you in a close-knit community that inspires others to achieve, helps others to succeed, builds trust and challenges you as a collaborative leader.
We connect you to extraordinary opportunities and valuable networks, and most importantly, highly motivated, diverse peers.
Shaping the Region
Over the past 25 years, more than 1,500 alumni of the Sacramento Part-Time MBA program have raised the level of management talent in the capital region and contributed in many ways to its economic growth and renaissance.
You—EDGErs are the new wave of leadership, and candidly, programs like ours help get young professionals in leadership roles, quicker. In fact, many fellow members are current students and alumni of our MBA program.
Your first year of our IMPACT curriculum focuses on strengthening core business skills that will serve you in any career and field. Then you select electives within a concentration that aligns with your academic and professional goals.
Our program is designed knowing that Sacramento MBA candidates balance work, school and other responsibilities while pursuing their dreams. They benefit from our faculty now ranked No. 2 globally by The Economist, and consistent national recognition for the overall quality of our program.
I'm truly inspired by the students I collaborate with daily at the UC Davis Graduate School of Management, and I'd love to help you start your MBA journey!
As the presenting sponsor of Metro EDGE, we are committed to investing in you by offering scholarships up to $15,000 total.
There is still time to apply to join our fall 2021 cohort starting in October.
I'm happy to meet with you virtually one-on-one for a personal consultation. Check our available dates here >
Resources
UC Davis Sacramento Part-Time MBA Program
Investing in Yourself: Financing Your MBA
This guest post was written by Alex Svenson, a Metro EDGE member and associate director of admissions for Part-Time MBA programs at the UC Davis Graduate School of Management, the presenting sponsor of Metro EDGE. Have questions or comments? Send her a DM through the UC Davis MBA Instagram, and give us a follow there, too.