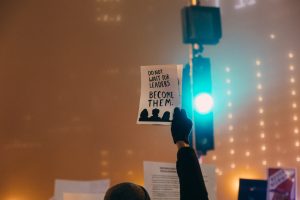 by Giuliano Kornberg
The nonprofit scene in Sacramento is incredibly robust. Depending on who you ask, there are between 4,000 and 6,000 nonprofits in the region- if not more! Nonprofits comprise 20% of all businesses in Sacramento, second only to Washington D.C. Some of Sacramento's most high-profile organizations, such as the Crocker Art Museum and Powerhouse Science Center, are 501(c)(3) nonprofits.
Because of the high volume of nonprofit organizations in Sacramento, it's incredibly easy to get involved and start building your career. When considering a nonprofit, passion is the number one thing. What are you passionate about? If you love an organization's mission, values, vision, and impact, your hard work will be worth it.
Nonprofit opportunities can be tough—there is a difference in compensation and benefits compared to for-profit companies, long and inconsistent hours, events, galas, and concerts to produce, on top of the day-to-day administrative work. But, if the passion and the work is there, it'll be easier to show up. After a while you'll find yourself not realizing you're 'working' but contributing.
In addition to having a personal passion for an organization, building relationships will be crucial. Sounds simple enough, but having good rapport with everyone, from staff to board to donors to ticket buyers, is paramount. My work as Development Manager of the Sacramento Philharmonic & Opera, where I'm lucky to be able to talk about classical music all day (there's the passion!), is forward-facing and built solely on the relationships I build and maintain.
It's only natural that directors and managers will talk to their constituents more than other positions. But even if you're the most internal-facing employee, at some point you'll probably need to have a conversation with someone important to the organization. If everyone in a nonprofit is comfortable with chatting and can "turn it on" when they have to, the nonprofit will be all the more successful.
What if you really like your current gig and don't want to enter the nonprofit space as a full-time worker? Fear not! Nonprofits need help at all levels, so your involvement doesn't have to be in the form of full-time employment—joining a board or committee gets your foot in the door and can greatly enhance your career.
Volunteering is a great way to expand your professional network, forge new relationships, and ultimately give back to your community. And, good news for YP's, nonprofits are always looking for young professionals to join their teams.
Lastly, fundraising is an exceedingly important aspect of nonprofit organizations and is something everyone at any level should do. You don't have to be the big asker who pulls in the big bucks. As a board or staff member, doing the development, aka "dirty work", of making thank-you phone calls, writing hand-written notes, talking to patrons at an event, and being an advocate or ambassador goes a long way toward helping the organization raise money. And if you develop relationships in a friendly, organic way, you can easily hand-off the donor to your "asker" to raise funds.
Summary: Stepping into a nonprofit space is much easier than it seems. Have a cause in mind that fuels your fire and do a light search-- hit Google, ask friends, see what other YP's are up to. Then, hone in on your tenacity and friendliness. Last, work to build and maintain strong friendships in the nonprofit world. Once you've mastered these tasks, the fundraising will be a natural next step!
To learn more about nonprofit opportunities in the Sacramento region, visit the Impact Foundry or GivingEdge.
---
Giuliano Kornberg is the Development Manager of the Sacramento Philharmonic & Opera and an active member of Metro Edge, serving on the Membership and Community Engagement Committees. He is passionate about nonprofits and the impact young professionals can have on them!