Become part of the Reading Partners Board of Directors
By Anne Descalzo Philanthropy Committee Co-Chair
Reading Partners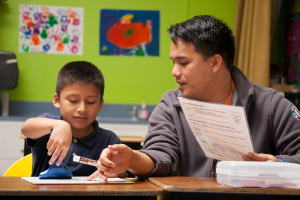 Looking to make a lasting impact on Sacramento elementary schools, build your leadership skills, and support Metro EDGE's 2015 beneficiary? Then here's your opportunity to give back to local students by becoming part of Reading Partners (RP) Board of Directors.
Reading Partners has been in the Sacramento region since 2009, and was the third region established by the organization. With the help of volunteer tutors, RP delivers unmatched results when it comes to helping students in need, and placing students at their reading level,
RP is looking to grow a diverse board, including YP's who are connected in the business and philanthropic communities, and willing to share the good work that's happening.  RP believes that YPs bring energy, new ideas, and have ability to effectively share the organization's mission with the community. The students can also easily relate to YPs because they are a little bit closer in age, and are looked upon as role models for what the children can achieve by improving their literacy skills.
Jane Tsai Weaver, an RP Board Member, says that she is proud of RP's results. "Students who come to the program are better readers, and teachers tell us they see positive changes in students' behavior and confidence. I am proud of the mentoring relationship that is the hallmark of RP. Tutors work with the same student each week and develop strong bonds that help students realize how much they matter. Many students don't get enough 1:1 adult time, so the student-tutor relationship makes RP special."
RP board members and newly selected RP Executive Director, Rachel Minnick, are excited to meet you, share their experiences as board members, and encourage you to look into becoming part of the RP movement. We look forward to seeing you at Storm the Boardroom!