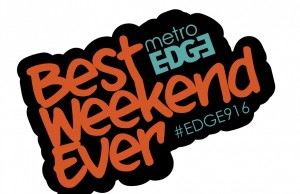 This is the true story … of six young professionals … picked to live out 1 loud weekend and share their stories … to find out what happens … when people stop being routine .. and start experiencing … the 916 … 9 events, 1 weekend, 6 young professionals. Best Weekend Ever!
The Best Weekend Ever project continues with Girls on the Grid taking over June 19-21! Follow along this weekend as Leia, Michelle, Chelsea, Kearsten, Jamee and Chantel share a few of the experiences, activities and events that make them love our region!
FRIDAY, June 19
1) 5:30 p.m. Happy Hour at Crawdads - GROUP
2) Concerts in the Park - Michelle and GROUP
SATURDAY, June 20
3) Wine Tasting in Amador - Chantel
4) YOGA at Soil Born Farms - Michelle
5) A's Game - Chelsea
SUNDAY, June 21
6) Insight/Farmers Market (X Street) - Leia
7) River Cats game - Leia and Michelle
8) Father's Day Triple Play: Beer, Bluegrass and BBQ at Ruhstaller Farm and Yard - Kearsten
9) "Grapes and Grub" at Old Sugar Mill
Follow the girls on Twitter/Instagram and make sure to give them some social media love!
Leia: @LeiaOh
Michelle: @ictfd (Instagram), @CFOLikeaMother on twitter
Chelsea: @chelsirvine
Kearsten: @Kshep916
Jamee: @jameerees
Chantel: @chan_tz (instagram) and @chantelelder on twitter
Watch the campaign video courtesy of Spitting Image Media, which featured our first BWE group, the EDGE Communications Committee.
#BWE
#EDGE916
@metroedge
#girlsonthegrid / Girls on the Grid
What would your "Best Weekend Ever" look like in Sacramento?  Contact Metro EDGE Communications Committee Chair Michael Young to sign your group up for a summer weekend today! We're still looking for a group to take on July 3-5!