By Emilie Cameron, 2014 Program Chair
When I was selected as Chair of Metro EDGE I knew the position would open new doors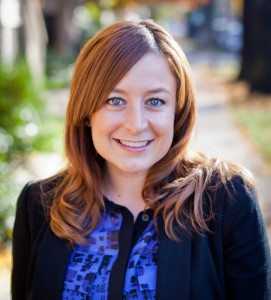 and provide access yet unseen both personally and professionally. More importantly, I knew it would give me a platform to make an impact in the region I love so much.
What didn't occur to me was that I'd represent Metro EDGE in Washington DC as part of the Metro Chamber's annual Capitol-to-Capitol program! This weekend through May 7, I'll be across the county helping to advocate for policies that will ensure our region is innovative and thriving for years to come.
It's an exciting opportunity to represent the voice of our over 500 members on such an important platform. As I prepare to enter the offices of elected officials - both those who represent our region and those whose votes affect our region - it's made me reflect on what matters most to young professionals back home.
Are there specific policies and priorities that we as a young professional community can collectively impact for the betterment of us all?
I believe Metro EDGE has already started the conversation with the accomplishments from the first quarter of the year. We created a strategic plan centered on the principles of strengthening our program, our members and our community. We hosted networking and professional development events and activities designed to inspire membership to collaborate with peers and the community. In collaboration with emerging leaders from across the region, we convened over 500 young professionals for the state's first EMERGE Summit. I'm also proud to say Metro EDGE has now grown our membership to over 500 strong. Whew! It was a busy first few months!
Looking ahead, I expect Metro EDGE to stay just as aggressive. Perhaps one of the greatest large-scale mentoring events our region has ever seen, Executive Insight, returns to Downtown Sacramento June 17, and the line up is excellent. I predict a sellout for the 4th year in a row! I'm just as excited to participate in all of the networking, professional development and regional engagement activities we've lined up this summer to keep the collaboration and conversation going.
In the coming months expect to hear more about a three-prong initiative aimed at increasing meaningful young professional participation in the fabric of our region's business community. This will include opportunities for scholarships to participate in programs like the Metro Chamber's annual Capitol-to-Capitol and Study Missions, among others, a challenge to increase the number of regional leadership positions filled by talented professionals from our membership, and a formal program to initiate mentor pairing. Metro EDGE will also establish a platform for you to provide a voice in how we as young professionals implement the Next Economy Prosperity Plan.
I've said it before and I'll say it again - there has never been a more exciting time to be a young professional in our region. Metro EDGE will continue to work hard to provide opportunities for you to engage, develop, give and empower yourself in meaningful ways. I challenge you to take advantage of these opportunities. Our region is great because of the people who make it great. Join us at an upcoming event, join a committee or simply tell us what's important to you.
I plan on telling our Metro Chamber counterparts a lot about what matters to Metro EDGE members while here in DC, so don't be shy! Email me and tell me about what's important to you.
Talk soon!
Emilie Cameron
2014 Program Chair