FAME is a quick interview where we introduce you to fellow EDGErs and give you a glimpse into their professional lives and personalities. Missy has been a member of Metro EDGE since April 2019. She is also the host of Creative Mornings Sacramento. Reach out and say hi!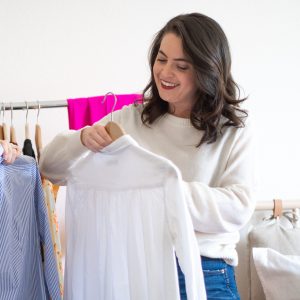 Where do you currently work, how long have you been there, and what do you do?
I currently work for myself as a private personal stylist and wardrobe consultant at my company Simplified Wardrobe. I help successful women feel confident and gain a competitive edge by developing a unique, professional personal style and streamlining their wardrobes so that getting dressed for work, a big interview, an important speaking engagement, or anything else is simple and stress-free. 
Prior to that?
I actually started my career in tech in San Francisco. I worked as a product designer for a handful of startups and large companies, including Viacom (Nickelodeon and MTV Networks), Stackmob (acquired by PayPal), and The Hunt (acquired by Pinterest.) Before making a career switch, I was the Head of Product Design at an early stage startup called Bindle Chat. I still occasionally take on speaking engagements and career coaching clients for young designers who want to be UX or Product Designers in tech. 
What is your educational background?
I went to Cal Poly in San Luis Obispo and have a Bachelor of Fine Arts in Art & Design, with a concentration in Graphic Design. While I was there, I worked on campus in the Admissions Office, The Mustang Daily, and ASI (Associated Students, Inc.) as a graphic and interaction designer. I'm also certified as a Color Analyst and Personal Stylist.
What is the best part of your job?
I love making women feel beautiful! It's a great feeling when a client looks in the mirror and smiles. I love showing them little tricks to look better and more polished and how to combine their clothes in ways they never would have thought of themselves. I feel so honored that these women trust me enough to tell me their vulnerabilities and welcome me into their closets. 
What do you love about living in Sacramento?
The trees! Is that cliche? Growing up in Reno, I had all four seasons. When I left for college at 18 and lived in San Luis Obispo and then San Francisco, I really missed changing leaves and cold winters. (Though, we don't get snow here, at least we're pretty close to Tahoe!) Sometimes driving on the freeway during autumn I'm literally awed by how beautiful my surroundings are—on the freeway!
What is one thing that might surprise people about you? 
I'm an introvert and very shy. You'd think that as the host of Creative Mornings, where I stand on stage and talk to 150+ people every month, that I would be extroverted. Something about standing in front of a packed audience on stage doesn't bother me, but going up to a stranger at a networking event is terrifying. (If you see me at the next Metro EDGE event, come say hi and save me from my own anxiety!)
When you aren't in the office, where can we find you?
Well, I'm rarely in a real office (I work from the couch, coffee shops, clothing stores, other people's closets, and occasionally my own home office.) Outside of that, you can find me hanging at the Jungle Bird with the Sacramento Ohana or heading up to a cabin in Tahoe for a snowy weekend. 
What advice can you offer a young professional looking for a similar job/career path as you?
My career path was not exactly straightforward, but I would say to follow your interests. Sometimes I wish I would have pursued a career in style earlier, but I wouldn't trade my time in tech and design for anything. I learned a lot, made a lot of connections (including meeting my engineer husband), and still use a lot of those skills in what I'm doing now. After my last job in tech, I was in a dark place—disillusioned by the tech industry and not really sure what I wanted to do with my life. I took some time to really soul search. 
If you're feeling like you don't know what your passion is or what you want to do "when you grow up," I highly recommend reading these books:
In addition to that, I would advise you to just put yourself out there. Experiment. Play. Do the work. I'm still learning and growing, but every time I push myself to go past my comfort zone, it pays off. 
How has Metro EDGE enhanced your resume?
As a member of Metro EDGE I've met a lot of amazing people, both fellow attendees as well as speakers. I even found one of our speakers for Creative Mornings at a Metro EDGE event. Like I said, get involved, for EDGE or another great organization. I started volunteering for Creative Mornings the month I moved to Sacramento, and I never would have met the people I know now if I hadn't decided to make that commitment. (And I never would have been chosen to take over as host!) You never know who you'll meet at an event, so be nice and carry business cards.