F.A.M.E. is a quick interview where we introduce you to fellow EDGErs and give you a glimpse into their professional lives and personalities. Jordan Brown is our Metro EDGE Diversity, Inclusion and Belonging (DIB) Lead, serving as our subject matter expert to bring EDGE's commitment to DIB into focus in everything that we do. 
February is Black History Month and while it's important that support for the Black community is year-round, Black History Month gives us the chance to highlight inspiring members of the Black community who are making a difference in the Sacramento region. Here's what Jordan had to say: 
What do you do for a career?
As a learning designer, media producer, and digital technologist leveraging ten years of creativity and technical skills, I imagine and build effective and engaging educational environments. My diverse international experiences studying and working abroad in Ghana, Germany, or El Salvador inform my cultural competence, critical thinking skills, and ability to navigate change and deliver engaging experiences.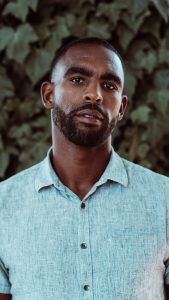 What is your educational background?
I went to San Francisco State University for Media production and the University of San Francisco for Educational technology.  I had a few years at Sac State, shout out to the college radio station I DJEd at  KSSU!  There is a term I learned about called the scholar before the school that was explained to me as learning has happened long before entering any school system.  Education has been handed down in the form of stories, what has happened in our environment, and sometimes through the receiving of knowledge from our elders before our birth. Shout out to all my ancestors that dropped gems- Lorraine and John Brown, Joan and Edward Jordan, Jeff Brown, Anthony Jordan, Tommy Jordan, and Damien White.
What does African American representation mean to you and why is it important? 
Black representation looks like anything Black people want it to be.  There are examples to follow and certain aspects to highlight. Still, there is no mold for Black representation. History has shown that regardless of what profession you have, what status you hold, or how much money is made, Black culture can not be fully represented. So for me, representation means acknowledging and finding value in all facets of Black culture.   That's why I prefer to use the term Black over African-American. It encompasses everyone within the African diaspora, including people from Asia to South America. The people who identify as this throughout the world are different and share similar experiences related to their appearance and culture.  
As young professionals in Sacramento, how can we continue the conversation about diversity and bring awareness to our local African American community?
Recently a colleague, Nadia De La posted some helpful ways to celebrate and support your black coworkers during Black History month. Those that caught my eye were:
 Help them close the Black pay gap, especially if you have positional power to influence policy change, create pay transparency and equitable practices amongst people managers. 

Offer real and authentic mentorship and sponsorship for career advancement. Show that you're obviously open to help and reach out proactively so there's no second-guessing your intention and availability. 

If your Black co-worker says they're experiencing challenges at work, discrimination, bias and exclusion and harm, believe them. 

Here are a few local resources:
What do you love about living in Sacramento?
Being born and raised in Sacramento, I love to see my friends create cool things in the city. Watching the graffiti on the trains that come through Sacramento is something I still enjoy doing. 
I also like the access to creeks, rivers, other nature spots to explore with my family. 
What is one thing that might surprise people about you? 
I have traveled to 20 countries. 
When you aren't in the office, where can we find you?
I can be found at the house reading, cooking, making music, playing with my kids, exploring the Yuba river with my family or snowboarding in Tahoe.
What advice can you offer to a fellow young professional looking for a similar job/career path as you?
Know your values and the quality of life you want to have. Choosing your job based on your values can help determine your career path and quality of life.
How has Metro EDGE enhanced your career?
One thing that attracted me to Metro EDGE was the ability to engage more with Sacramento businesses and organizations I always see but have yet to have an opportunity to work with and having the ability to volunteer for programs has been a way for me to connect with community members.  A particular memory I value is volunteering with the Fruitridge Community Collaborative where Metro EDGE members created care packages for families recently placed in temporary housing at a nearby hotel in my neighborhood. The members of Metro EDGE have supported me with career exploration, strengthening my networking, and seeing how to navigate Sacramento as a young professional.