FAME is a quick interview where we introduce you to fellow EDGErs and give you a glimpse into their professional lives and personalities. Janette has been a member of Metro EDGE since 2017 and currently serves on the Emerge Summit Committee. Reach out and say hi!
---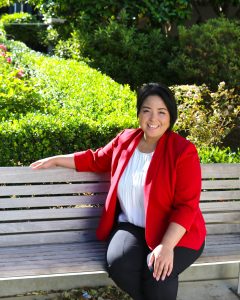 Where do you currently work, how long have you been there, and what do you do?
I have had the honor of working with the amazing people at the Sacramento Municipal Utility District (SMUD) for nearly 5 years now. I am a Senior Enterprise Performance Planning Coordinator. My team and I help draw line of sight from tactical efforts and operational initiatives to our enterprise strategies. We facilitate corporate level processes that allow us to keep our finger on the pulse of key performance indicators and prepare for annual prioritization efforts with the executive team. I help to build and drive the implementation of operational frameworks and cross-functional solutions to support data driven decisions: finding ways to do things more efficiently, collaboratively, and with the enterprise initiatives in mind.
Prior to that?
Prior to joining SMUD, I spent nearly 10 years with the California Public Employees' Retirement System (CalPERS) where I honed my project, program, change, and relationship management skills. I started off as a student assistant in 2006 and was quickly picked up for a part-time position while I finished my bachelor's degree. In my time there, I participated in the implementation of my|CalPERS through facilitating procedure alignment and developing/delivering internal and external trainings. I also learned a great deal about supplemental retirement savings when I managed the communication campaigns and project management of the Supplemental Income Plan's fund line-up changes (when the specific funds in your 401(K)s change).
What is your educational background?
I am a UC Davis double-dipper. (Go Aggies!) I started as a neurobiology major with no expectations to become a doctor. By my third year, I dropped the major and received a Bachelor of Science in community and regional development with an emphasis in policy planning and organization management. Very different worlds, but system thinking was key to both. I also completed my MBA with the UC Davis Graduate School of Management (GSM) Sacramento Part-Time Program. I've also had the honor to be nominated and selected as a member of the Nehemiah Emerging Leaders Program's Class IX.
What is the best part of your job?
I left the MBA program with a job that fit exactly what I was looking for: enterprise-wide impact and being a part in how an organization frames and approaches decision making. I am also never bored at my desk, probably because I'm always in meetings.
Bigger picture: I love that I work for an organization that invests so much back into the community. It lets me know that a lot of what I put into my work reverberates into the local community.
What do you love about living in Sacramento?
TREES (aside from the pollen). I grew up in Milpitas, California in a neighborhood called "The Pines." It was built in the 1970s for Ford factory employees and there were trees everywhere! Specifically, tall, well-rooted trees. When my husband and I chose to sell our house in Natomas, I pushed for us to live in the Pocket-Greenhaven neighborhood so that my son, James-Henry, could grow up in a neighborhood just like mine: lots of trees, easy to walk, and parks around each corner. I specifically love driving to and from my neighborhood when the leaves change in the fall; it feels like "home."
What is one thing that might surprise people about you?
I am a social butterfly that loves to meet new people. I can present to a room of executives, provide a personal testimony in front of a retreat, and grab the microphone for karaoke. What may surprise people is that despite everything listed, I still have a fair amount of anxiety that I work through – at times paralyzing. I have learned different coping mechanisms and have leaned on the support of my husband Bryan, friends, and colleagues to manage it.
When you aren't in the office, where can we find you?
My 8-month-old loves music, so on Saturday mornings we go to baby and toddler song time at Belle Coolidge Library with the famous Mr. Cooper. Next month, we're starting him in swimming lessons.
For the most part, I'm at home binge-watching my shows and ordering in food. But I am always down for an escape to Napa, happy hour at Ruth's Chris, or a yummy hazy beer.
What advice can you offer a young professional looking for a similar job/career path as you?
Foundational advice to take to heart are:
Expand your network by making friends with people before you ever need to make an ask.
All experience is valuable, especially volunteering.
Ask questions from a place of humility and curiosity.
Learn how to accept and give feedback.
Get over yourself. You're not supposed to be perfect and know everything; you're supposed to make a positive impact.
I see a lot of smart and willing people stumble when the list of advice above is not taken seriously.
Knowledge-wise, I focused my MBA on leadership, data analytics, and organizational development courses. Leadership, to understand leadership styles and how they interact. Data analytics, to understand the nuances of going from imperfect raw data in systems to analysis, reporting, and the art of visual communications. And organizational development to dive into how to make and manage the organizational changes necessary to drive the initiatives set by leadership.
At the end of the day, I consider myself a generalist that has picked up a lot of knowledge, skills, and exposure because I was open to failing, learning, and engaging.
How has Metro EDGE enhanced your resume?
I've benefited through connections made from events and raffle prizes of coffee dates with local leaders. Friends that I've made through Metro EDGE have become some of my closest friends and trusted mentors. The experience of doing informational interviews has helped me develop and practice active listening skills that I continue to hone today.
I've also had the chance to be on an Emerge Summit panel about mentorship. On the panel, my mentor and I were able to share about our experience in the She Shares mentorship program. This year, I'm excited to help with Emerge Summit logistics; I've always wanted to be behind the scenes of a conference-style event and am super excited for this year!