FAME is a quick interview where we introduce you to fellow EDGErs and give you a glimpse into their professional lives and personalities. Andrew has been a member of Metro EDGE since December 2018 and currently serves on the Empower and Communications Committees. He is also a Metro EDGE Ambassador. Reach out and say hi!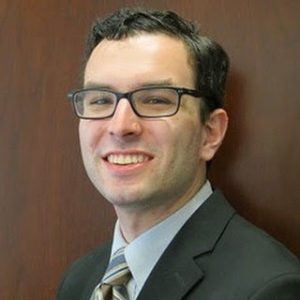 Where do you currently work, how long have you been there, and what do you do?
I currently serve as a Tax Consulting Associate at Goodwin Consulting Group, Inc. I began my role in early March 2019. In my role, I administer community facilities districts ("CFDs"), special tax projects, and contribute to fee programs across the state of California. I also serve as a consultant to cities, counties, and other public agencies by levying Mello-Roos taxes in accordance with the Mello-Roos Community Facilities Act of 1982. The act was created to provide an alternative source of funding to public agencies to serve their expanding demand for capital in response to the passing of Proposition 13 in 1978, the famous state property tax reform law. 
Since then, Mello-Roos has become one of the most common forms of public infrastructure financing for California cities. These special tax revenues can be expended on a variety of costs associated with the development and maintenance of public facilities and services, unique to each community.
Prior to that?
I served as a Premier Banking Associate at River City Bank. I also have experience in credit, personal lending, and private wealth management at First Republic Bank. In each of these areas, I have always strived to optimize the financial relationships of high-net-worth local businesses and homeowners with every aspect of their deposit, lending, and portfolio needs to help them reach their business and investment objectives.
What is your educational background?
I graduated from The Max M. Fisher College of Business at Ohio State University in the winter of 2016. I graduated with a double-major in Economics and Business Administration with a specialization in Marketing. During my time at OSU, I was heavily involved in The National Center for the Middle Market and the original founding of the Zeta Nu chapter of Phi Chi Theta, which is one of the nation's largest co-ed Business & Economics Fraternities. NCMM is a leading research institution serving the Middle Market segment of the US economy, a fundamental but often overlooked business cohort. I highly recommend the Center's podcast, "The Market That Moves America," which is available on all streaming platforms. 
As for Phi Chi Theta, it now comprises 44 collegiate and alumnae chapters across the country, and Zeta Nu has also flourished in recent years. My junior year, I traveled to Washington D.C. to represent the interests of my chapter to the national organization.
What is the best part of your job?
The best and most fulfilling part of my work is helping to grow and develop cities and counties to reach their full potential. I am very passionate about maximizing the demand for strong, reliable public infrastructure for all residents at the minimal economic cost and tax burden to homeowners. 
Another area of my job that I love is the invaluable exposure that I get to the capital markets. Through my work, I have developed a strong sense of the industry I would like to foster my career in. I have gotten actively involved in Urban Land Institute, California YIMBY, and Habitat for Humanity as a direct result of my interest in the field that my position has directly inspired. I look forward to collaborating with my peers, leaders, and elected officials in the coming years to determine the most efficient allocation of our limited resources to serve a growing population and expanding, dynamic economy.
What do you love about living in Sacramento?
Sacramento truly has everything! What I love most about living in the Capital City is the neighborhood and small-town feel. It is the perfect size city: not too large that I ever feel overwhelmed or displaced from the public dialogue, and not too small that I ever feel bored or that I have seen everything this city and region has to offer. 
A few honorable mentions for me include: the farm-to-fork/wide open walls movements, the local coffee shops and wineries, close access to Lake Tahoe, California's Sierra Nevada, Central Valley, and beautiful North Coast. Oh, and the trees! The abundance of trees was the first thing I noticed upon arrival and they've held a special place in my heart since. I love driving through Midtown shrouded by Sacramento's glorious urban forest. Every neighborhood has a special, unique, and distinct identity. Sacramento is surely a city on the rise and I'm excited at the opportunity to have a role in shaping it.
What is one thing that might surprise people about you? 
Growing up in the east bay, I am a tried-and-true Golden State Warriors fan. This may surprise you, given how loud I cheer for the hometown Kings at Golden 1 Center. I'm a huge sports fan and am excited for Sacramento's rise as a major sports city with the Kings' upward trajectory, Sacramento Republic's MLS expansion, and the River Cats' AAA successful championship season in 2019. Sac State and UC Davis' programs are also a major interest of mine, in the storied battle of the Causeway.
When you aren't in the office, where can we find you?
Outside the office, you can find me in Midtown or East Sac at one of our city's countless local restaurants, coffeeshops, or marketplaces. You can also find me enjoying local sporting events and concerts at the Golden 1 Center, Ace of Spades, or Harlow's.
What advice can you offer a young professional looking for a similar job/career path as you? 
Take every opportunity you can to learn and engage with  your community and industry area. Once you find your passion, relentlessly pursue all available resources to become an expert. Read books. Realize that you will never know everything, but everyday that you learn something new is its own success. Be open to new perspectives, and assume that the person you are listening to might know something you don't. Finally, compare yourself to who you were yesterday, not to who someone else is today.
How has Metro EDGE enhanced your resume?
Through Metro EDGE, I have gained so much exposure to some of the region's brightest people and most accomplished leaders. I have made connections with people and organizations that I heavily leverage for continued learning and growth. 
As an EDGE Ambassador, I have helped to assimilate new members into the organization. I enjoy learning what others' goals are and connecting them with the appropriate resources and opportunities to help them grow. 
As a member of EDGE's Empower, Communications, and Fundraising Committees, I have contributed to various projects and shared my ideas on how to optimize members' experiences. Metro EDGE has allowed me to bring the young professional voice to the table and connect with others to collectively solve problems in the process.
Know someone who would be perfect to feature for FAME? Nominate them by emailing Gina McLaughlin, Communications Committee Co-Chair.