Faces of Metro EDGE (F.A.M.E. for short) is a quick interview where we introduce you to fellow EDGErs and give you a glimpse into their professional lives and personalities. Liz has been a member of Metro EDGE since December 2018 and currently serves on the Develop and Empower Committees. She's also the new young professional representative for the Metro Chamber PAC Board. Reach out and say hi!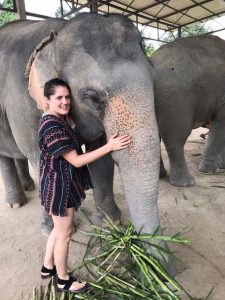 Where do you currently work, how long have you been there, and what do you do?
I currently work at the California Restaurant Association (CRA) and have been with the association for almost four years. I recently became the Director of Regional Development, Statewide, which means I'm responsible for building CRA brand awareness and market growth throughout the state in regions where CRA currently does not have chapters. 
Prior to that?
Prior to my new position, I was the Senior Member Care Manager for Northern California at CRA. I was responsible for coordinating all chapter board initiatives for the Fresno and Sacramento chapters. I was also in charge of member engagement and outreach in the Northern California region. 
What is your educational background?
I graduated with a bachelor's degree in sociology and a minor in community and regional development from UC Davis. Go Aggies! 
What is the best part of your job?
The best part of my job is working with creative and passionate restaurant owners, operators, and suppliers who love the work they do and care about the success of the restaurant industry. Plus, I always enjoy talking about food and beverages! 
What do you love about living in Sacramento?
I love the energy and diversity Sacramento has to offer as it continues to unfold new elements of the city. If there is something you are looking to do, it is likely happening; you just have to go out and find it! Sacramento has the little city feel with a big imagination to make things happen. Mostly, I love living in California's capitol and being at the epicenter of local, statewide and national change. 
What is one thing that might surprise people about you? 
Many are surprised when I tell them I used to be a ballroom dance instructor and was part of a dance team that performed across California. Salsa, East Coast Swing, West Coast Swing, Nightclub Two Step, Waltz-- you name it! I haven't danced much in the last couple of years but when the right music comes on, I still enjoy a few good dance moves. 
When you aren't in the office, where can we find you?
In my free time, you can find me out enjoying nature on a hike, relishing a new or favorite restaurant with a good glass of wine, yelling at the San Jose Sharks to play harder or traveling internationally to visit new places around the world.  
What advice can you offer a young professional looking for a similar job/career path as you?
First, I would suggest working in a restaurant or some sector of the hospitality industry. Learn to wear many hats and be able to juggle multiple projects at one time. If hospitality is your passion, there are all sorts of jobs that touch the restaurant industry that aren't within the brick and mortar of a restaurant. If association work is your passion, there are plenty of jobs out there that represent all sorts of industries. Don't be afraid to jump in the deep end and push yourself to be uncomfortable; that's when you know you are challenging yourself. 
How has Metro EDGE enhanced your resume?
Metro EDGE has allowed me to showcase my passion and engagement in the community by being a part of EDGE committees while making new introductions that inspire career growth. This in turn has added to my professional portfolio and enhanced by resume. 
Know an EDGEr who would be perfect to feature for F.A.M.E.? Nominate them by emailing Gina McLaughlin, Communications Committee member.