Faces of Metro EDGE (F.A.M.E. for short) is a quick interview where we introduce you to fellow EDGErs and give you a glimpse into their professional lives and personalities. Laine has been a member of Metro EDGE since 2014. Reach out and say hi!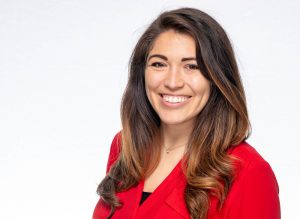 Where do you currently work, how long have you been there, and what do you do?
Currently, I am the Development Director for Habitat for Humanity of Greater Sacramento where I oversee the organization's fundraising ($1.8 million in annual financial donations and $1.1 million in annual in-kind donations), volunteer program (2,500 volunteers a year), and public relations, communications, marketing, and media engagement with local and national media. Next October I'll celebrate my tenth year with Habitat! 
Prior to that?
While I was attending university, I worked two jobs:  a work study job at The American Red Cross (for experience) and the other was a waitress job  (to support myself). Right after I graduated, I started working at Habitat in a position similar to a glorified receptionist. My first year at Habitat, I had to wait tables after work to make ends meet, but I fell in love with their mission and that love has continued to be the driving force all these years through a variety of roles.
What is your educational background?
I graduated from Gonzaga University with an English degree and a public relations minor. I chose PR as my minor to make my mother happy as she was not quite sure how I'd ever find work with an English degree. 
What is the best part of your job?
When I started at Habitat, I used to tell my mother that I could never fundraise because I didn't want to ask people for money (she laughs about that now by the way). Now, I don't think of what I do as asking people or companies for money, because my job is more about connecting. At the end of the day, everyone wants the opportunity to be a part of something greater than themselves: to make a difference and do something that makes them feel proud. I take great pride in every house we build or preserve, every neighborhood we revitalize, and every life we change through shelter because I get to see the direct part I played in helping make those things possible. It's my job to make sure others have the access and opportunity to feel that pride as well. 
What do you love about living in Sacramento?
The people. Sacramento is such a "rising tide lifts all boats" kind of town and I feel blessed to live and work in a community that is so close-knit and supports one another so enthusiastically without hesitation.  
What is one thing that might surprise people about you? 
This question is a toughie because I feel like I'm a pretty open book, but here's a weird story for you. When I was little I had a pet goat named Barkley. He was awful and used to chase me around while my parents were building our house in Clarksburg. I started to have nightmares about "the big ornery goat" to the extent that my mom took the label off our hairspray and called it "big ornery goat spray" and would spray every crevice of my room to keep the "big ornery goat" away. Some kids are scared of monsters, for me it was "the big ornery goat."
When you aren't in the office, where can we find you?
I love to travel,  but when I was in university, my family wasn't in a position where we could afford to have me study abroad. Since I've started working, I've made it a priority to save up airline miles and vacation time whenever I can so I can go somewhere once a year where I use my passport. In the past 6 years I've been to nearly 20 countries.  
What advice can you offer a young professional looking for a similar job/career path as you?
When I was first offered the job at Habitat I was also offered a job as a part-time bank teller. The bank teller role paid more, but I decided (against my mother's urgings) to go with the lesser paying job at Habitat because I felt like there was more opportunity at Habitat for me to be impactful. I had to wait tables after work my first year and there was A LOT of grunt work. Honestly, there were times when things were really challenging, but the mission and the people kept me going. If you're looking to get involved in nonprofit, talk to people in the nonprofit field about their journey and find something that you're REALLY passionate about. Most of the success I've had in my career hasn't been a result of direct intention, but rather the result of earnest and steadfast belief in the impact of what Habitat does, sharing about it, and wanting others to have the opportunity to be a part of it too.  
How has Metro EDGE enhanced your resume?
As a young professional and a young manager, being a part of Metro EDGE has given me such a community of support in so many ways. The connections I've made and the things I've learned through EDGE have helped provide me with confidence and resources to do many things that would've felt beyond my reach on my own. I'm very grateful and proud to call myself a Metro EDGE member and advocate.  
Know an EDGEr who would be perfect to feature for F.A.M.E.? Nominate them by emailing Gina McLaughlin, Communications Committee member.