Words of Wisdom is a monthly interview on the Metro EDGE blog with an executive who is making an impact in the Sacramento community. Think of these interviews as a mini Executive Insight where you will receive valuable career advice that will help you grow as a young professional! This month's interview is with Julie Phillips, the newly appointed President and Partner of Randle Communications, a local Sacramento public relations/public affairs firm.
Read Julie's interview below to learn more about her and her advice to young professionals everywhere.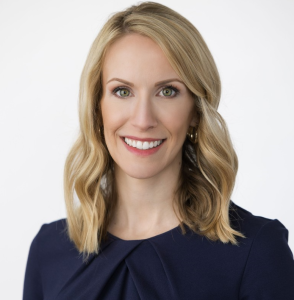 What are three things you wish you'd known as you embarked on your career?
Growing your leadership is about more than your individual performance. You can be a tremendous individual contributor but there will always be limits to your success if you are not emphatically invested in supporting those around you. A team working together toward a shared goal will always generate more success than one person can achieve. I'm a positive and team-focused leader today but I can't say I was intentional in the same way earlier in my career. I knew I was driven and disciplined but I wasn't fully considering how I was supporting those around me. What I know now is that the attitude you display as a leader, and the energy you invest in others, will positively impact those around you and the performance of an organization.
2. Bring your authentic self to your professional life. Early in my career I thought that by sticking to business I would appear more competent and professional. And while it's important that you convey credibility and authority a significant part of the leadership equation is being relatable. Bring some vulnerability into your professional relationships and watch how you deepen connection with those around you and produce better results.
Be courageous. Of course, we all know that if you aren't being challenged, you aren't being changed. But what happens when you're within striking distance of your goals, and fear and self-doubt set in. I wish I knew sooner that pushing past the unsettling feeling of trying something new is what yields the greatest growth. Lean into the hard and uncomfortable and know that you are ready, and you can do it!
Did you have a mentor? If so, what was the most important piece of advice they gave you?
Numerous people have supported my professional journey, and I continue to learn from everyone I work with, regardless of their title or experience level. At the top of that list is Jeff Randle, who has been integral to my development and growth. He's taught me immeasurable lessons about strategy, politics, and business but what's been most impactful was his tactful counsel to transition my energy and talent as a high-achieving individual contributor to a full-hearted team player.
How did/do you handle work/life balance?
During the first decade of my career, I did not have tremendous "balance" as it's described today but it was deliberate and I'm glad I poured my energy and time into learning and growing professionally. The hours and investment in perfecting my craft supercharged my development and spurred my career trajectory.
Today I think many young professionals are led to believe you can achieve tremendous success without putting in the necessary effort and work. It doesn't have to be either or. You can work incredibly hard while also being intentional about how you invest your time, balance your priorities, and manage your wellbeing.
These days, with two young children under five, I consciously prioritize my work and personal time, which includes planning ahead, physical movement and activity and quality time with my family and friends.
Do you have any suggestions of books, articles, websites, podcasts, etc. that might help a young professional?
Reading and studying the experiences of others is a powerful tool that helps everyone, especially young professionals, who are often hamstrung by fewer years of practical experience. It's hard to narrow the list, but below are books and podcasts that have had a profound impact on my professional journey:
Top books:
Mika Brzezinski's Know Your Value
Kate Purmal's The Art of Executive Presence
Bob Iger's The Ride of a Lifetime
Oliver Burkeman's Time Management for Mortals
Angela Duckworth's Grit
Carey Lohrenz's Fearless Leadership
Cathie Black's Basic Black
Jim Collins' Good to Great
Jon Gordon's The Power of Positive Leadership
Top podcasts:
Disrupt Yourself with Whitney Johnson
Ed Mylett's Max Out
Adam Grant's Work Life
HBR Women at Work/Coaching Real Leaders
As We Work
I also love Glennon Doyle's and Brene Brown's podcasts, and while they are less career focused, they promote introspection and community, which is instrumental to personal growth
How important is it to be involved in organizations outside of work (church, networking, philanthropy, community-based, alumni, athletics, etc.)? Why?
This is critical because investing in relationships deepens our connections and sense of community. When you're involved in organizations outside of work, you are learning about others, enriching yourself and at the same time likely sharpening skills that will contribute to your contributions and success in the workplace.
What do you love about Sacramento? 
I love the unabashed pride of the community and the shared vision and commitment to make Sacramento a World Class City. I'm especially in awe of the civic mindedness of our professional community and the willingness of everyone to contribute their time, talents, and resources to support our community.
Is there anything else you'd like to tell the 40 and under business professionals in our region?
Embrace the tremendous opportunities offered by our region to grow professionally. Try to remember that service to others in your professional and personal lives will always benefit you in ways you could not have expected. Know that you have purpose and value and are here for a reason!
To connect with Julie, you can reach her on LinkedIn or Twitter.