Faces of Metro EDGE (FAME, for short) is a quick interview where we introduce you to fellow EDGErs and give you a glimpse of their professional life and personalities. Jaimie is a new member of Metro EDGE and currently serves on the Communications committee. Reach out and say hi!
---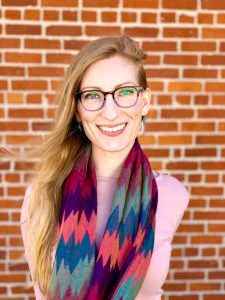 Where do you currently work, how long have you been there, what do you do?
I moved to Sacramento from Boston, MA roughly a year ago. I've been enjoying making positive connections in the community and reflecting on the direction I want to grow my marketing career in California. For roughly 6 months, I've really enjoyed working as a freelance digital marketing consultant for small businesses throughout the region. I've made some meaningful connections with local organizations, most recently with Startup Sac. I'm excited to work with this organization as the Marketing & Design Lead on Startup Weekend Sacramento! I definitely encourage you to check it out!

Prior to that?

Prior to consulting in Sacramento, I worked in strategic marketing roles in Boston, MA for nonprofit cultural institutions, startups, corporate finance, and education nonprofits. 

What is your educational background?
I've always been interested in languages and how language has the ability to shape one's perspective of the world. I pursued this interest during my undergraduate career. I received a Bachelor of Arts in French & Spanish from the University of Massachusetts, Lowell. If you get the chance, I would definitely encourage you to take a trip to Lowell, MA. Both Lowell and Sacramento are buzzing with revitalization, innovation and growth due to creative economy initiatives.

What is the best part of your job?

I love being creative, and I love collaboration and ideas. My favorite part of my job is working one-on-one with clients to design and test new and innovative marketing strategies.
What do you love about living in Sacramento?

Sacramento's energy is incredible. The city is going through a really interesting cultural renaissance, and an innovative spirit is everywhere. As a native New Englander, I've always been very connected to and interested in local history. I've loved learning about the history of Sacramento – it's a fascinating city! Knowing where the city has been, I'm excited to learn where it's going. I'm happy to be able to be part of the fabric of Sacramento at this time in its evolution. 

What is one thing that might surprise people about you? 
Everyone is wicked surprised by the fact that I don't have a Boston accent!
When you aren't in the office, where can we find you?
If I'm not sitting in a sunny spot at The Mill in Midtown or at Chocolate Fish in Land Park, you can definitely find me exploring Sacramento on my bike. It's fantastic how I can bike year-round in California! 
What advice can you offer a young professional looking for a similar job/career path as you?
Honestly, take the time to reflect on your interests and pursue what excites you. I love marketing, communications, perspective, strategy, and innovation. These interests are also cornerstones of my personal and professional life. If you're interested in breaking into marketing, just know that the field encompasses so much. There's definitely a spot for you and your passions. Always be vocal about where you want to go in your career and seek out opportunities to make meaningful and positive connections.
How has Metro EDGE enhanced your resume?
I'm so thankful for Metro EDGE. My husband and I moved from Boston, MA to California to continue to challenge ourselves and develop our careers, and the transition has been nothing short of transformative. In Metro EDGE, I've found a welcoming community of passionate professionals who embrace my enthusiasm for Sacramento and encourage me to pursue my interests and professional development. I can certainly say that Metro EDGE will always be a cornerstone of my career on the west coast. I can only hope to encourage and inspire new Metro EDGE members in the same way that the Metro EDGE community has embraced and encouraged me in my career.
---
Know an EDGEr who would be perfect to feature for F.A.M.E.? Nominate them by emailing Gina McLaughlin, Communications committee member.