Faces of Metro EDGE (F.A.M.E. for short) is a quick interview where we introduce you to fellow EDGErs and give you a glimpse into their professional lives and personalities. Charleen Floyd is the new Program Manager for Metro EDGE, so when you see her at the next EDGE event, be sure to say hi and give her a warm welcome!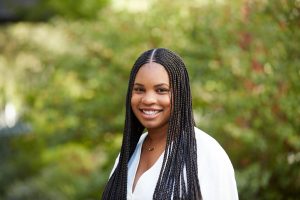 Where do you currently work, how long have you been there, and what do you do?
I am excited to be the Program Manager for the Sacramento Metro Chamber Foundation. Since starting two weeks ago, I have been learning how I can contribute to the success of the team. I have also enjoyed meeting so many new people while gaining a deeper understanding of our mission. Our awesome Foundation team is responsible for managing and supporting the Metro Chamber's community and workforce development programs such as Metro EDGE, Thousand Strong, Leadership Sacramento, Inspire Giving and Lemonade Day. I plan to lead and collaborate to make sure we deliver what we are asked, and even more.
Prior to that?
Prior to joining the Metro Chamber, I served for two years as the Program Manager for the Sacramento Part-Time MBA program at the UC Davis Graduate School of Management (GSM). Our Student and Academic Services team was responsible for the student experience at the GSM, from orientation to commencement. I provided guidance for student programs, events, and activities, as well as supported MBA recruiting and admissions initiatives. I also polished my social media, event planning and research skills. I valued the opportunity to assist students matriculating into the GSM and provide counseling support throughout their graduate student experience.
What is your educational background?
I am a UC Davis alumna and a proud Aggie! I double majored in Communications and African American studies. My international academic experience includes studies in Cape Town, South Africa where I completed my African American Studies degree coursework, and Madrid, Spain where I fulfilled my Spanish requirement and taught English to a class of elementary students.
What is the best part of your job?
In addition to networking and meeting new people, the best part of my job is in the implementation phase of special projects. After weeks and often months of tedious initiation and planning, the execution or "day-of" the event, although hectic, is exciting and such a natural high!  
What do you love about living in Sacramento?
As a girl from the big city of Los Angeles, I fell in love with Sacramento unexpectedly. I love seeing the seasons change. Lake Tahoe, Yosemite, Napa and San Francisco are all in my backyard. Living in midtown provides great music, culture, an art scene and wonderful farmers' markets full of local produce and plenty of activities, many conveniently located within walking distance.
What is one thing that might surprise people about you?
One thing that might surprise people about me is that although I enjoy traveling and meeting people, I am quite the introvert. I really enjoy "me-time": time when I can reflect, reboot and recalibrate.  
When you aren't in the office, where can we find you?
Strolling through midtown, enjoying the restaurant scene, popping in on open house events for fun, sweating it out vinyasa style, dancing at a concert, daydreaming in the airport about to embark on my next adventure or binge watching a show on Netflix with a glass of wine.
What advice can you offer a young professional looking for a similar job/career path as you?
My advice to a young professional looking for a similar career path as mine is to consider all options and never limit or "pigeon hole" yourself.
There's no telling where your talents and interests will take you. Do not pass up an entry-level position or a job that may not be exactly what you want. So many experiences open another door or lead to another chapter in your career. If you are not growing professionally, start looking. Don't stay in a job forever just because the work has become easy. Keep challenging yourself.
 How has Metro EDGE enhanced your resume?
Metro EDGE has given me the opportunity to collaborate with like-minded young professionals. I have enjoyed getting to know the team as we prepare for this year's Emerge Summit. I look forward to meeting you there on September 19th!
Know an EDGEr who would be perfect to feature for F.A.M.E.? Nominate them by emailing Gina McLaughlin, Communications Committee member.